Cake Decorating Business Reality
by Maria Paula Duarte
(Ca.)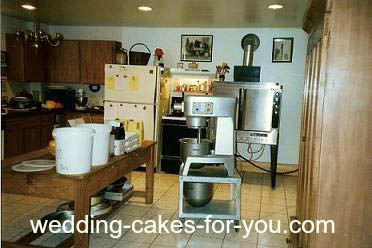 Lorelie's Luscious Cakes- Home Kitchen Back In The Early Days
Question: Can you tell me, what is the cake decorating business reality? What is the cake creators schedule? Do you start early and finish late? What is your experience and the experience of other people that you know?


Maria
Lorelie's Answer
Hi Maria,
The reality is that it is satisfying yet hard work. You have to really love it to do this as a career. I am hoping that other cake decorators will jump in here and talk about their experiences as well.
The schedule depends on where you are working, at home, bakery or a catering hall. I have done all three and am currently working part time at a bakery/market, which is a new experience for me.
There are many scenarios, but with all of the following situations you will have to work weekends most likely, and because the summer months are so popular for weddings you will be giving up a lot of your summer time and holidays as well.
Home
It is difficult to get permission legally to do a food related business from home. If you are lucky enough to live in an area that allows this, then you could consider it. I did it when the children were young, it helped to get us by and the inspector came twice a year.
The down side is it gets a little lonely, you have to market yourself and be willing to have people come to your house for tastings, and pickups. The biggest negatives being that you never can get away from your work and you will have to buy some large pieces of equipment.
The upside is that you have complete control over your work.
Bakery
This is probably the best place to start because you can learn so much by working under a master cake decorator. The pay will be low, at least at first although some places start at $14 an hour.
Working for a bakery can be fun at times, but the schedule can be grueling and messy as you can see by the picture above of my first cake decorating station.(lol) its messy no matter where you work...
The baking usually happens early in the mornings or you may have to depend on someone else to do the baking, which can become an issue because you will not have control over the quality and timing.
Banquet Facility
I think the best case scenario, at least for me, was the catering facility. You will have down time during slow periods to rest in between the busy times, and if you have the ability to oversee the desserts and cakes you can possibly be paid by salary.
In this scenario you don't usually meet with the brides, which can be good and bad. LOL... (for the most part brides are pleasant and appreciative)I like to meet them and get a feel for what they are like, but it is a small price to pay for a great job.
The
cake decorating reality
is that although satisfying it can be grueling work, because you are on your feet for sometimes 12 hours at a time during busy times.
I don't want to discourage you but as you can see you will need to be the hardy type to do this for a living.
In the end it is always a great feeling to set up the wedding cakes, take a step back and admire what you have just created. It is a special kind of gratification being a part of an important event in someone's life. And it feels so good when a bride and groom let you know how happy they were.