Cake Decorating Flowers Business
Cake Decorating Flowers Business
by Jesse Citron
(Kingston, ny)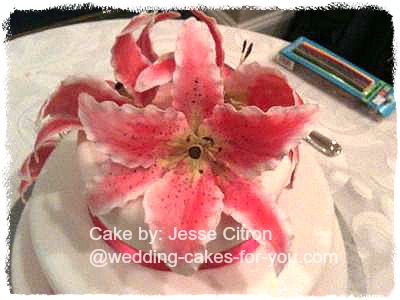 Making my dreams a reality
Cake Decorating Flowers Business?


I have been making cakes and hand made gum paste flowers out of my home for some time now. I love making the flowers so much. I am ready for the next step. I would like to start an online cake decorating flowers business to sell my craft.
I am concerned that I won't be able to sell them for what they are worth. I was wondering if you had any advice for me?
Hi Jesse, You most definitely should follow your dreams of a cake decorating flowers business online. You make gorgeous gum paste flowers! I can see that you are passionate about what you are creating. Having made these types of flowers for cakes I know how much work goes into it and appreciate the need to charge enough to make it worth your while.

I would suggest going online and seeing what people are asking for the gum paste flowers and arrangements. Try "Sweet Inspirations" for one and search around for others.

The next step is to build an online presence. This is #1 and it may take a little bit of work. That is exactly what I am doing with this website, which is fairly new. I started building it a little over a year ago and am now getting over 7,000 visitors a week. This number will rise as I continue to work my niche (wedding cakes)

Along with a high traffic website a few social sites can be developed around your business to help you to get even more traffic( Youtube, Twitter, Facebook, Flickr etc.) You will start to get followers and build an online business. (note this takes time)

Take that first step and check out the company I use for building my Wedding Cake Website. SBI It is by far the best choice and the best part is anyone can do it with out previous web building experience.

Wedding Cakes For You Youtube Channel
Facebook Business Page
Twitter

I hope this helps. Don't hesitate to ask as many questions as you need.

Join in and write your own page! It's easy to do. How? Simply click here to return to Cake Decorating Business Tips And Advice.
This article was printed from Wedding-Cakes-For-You.com