Cake Decorating Flowers
by Meena Mustafa
(Round Hill, Virginia)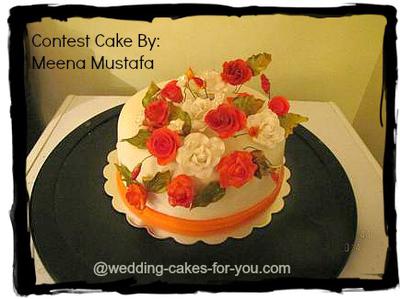 Flowers Are The Healing Medicine
Gum Paste Flowers
I made this cake for my very special friend Sabhia who had an open heart surgery and was in a lot of pain.
When I found out she was having this very serious surgery I decided to fly to Canada to see her. The next thought that came to my mind was, what is it that I should bring with me that would make her happy.
I knew Sabhia loved flowers but the doctors would not let me bring real flowers as she was in the intensive care unit. So I decided to bake a cake and put cake decorating flowers on it which I made by hand, using gumpaste which is similar to fondant. The gumpaste can be rolled out thinner than fondant so the petals look more realistic. It also dries faster and harder, so the flowers can be kept by the person receiving them.
Her favorite colors are orange and white so I kept those two colors in mind when designing and decorating it. I made the roses and leaves with gum paste and then air brushed them.
The flavor of the cake was a simple and delicious vanilla with yummy rich chocolate icing. The finished cake was carefully placed in a decorative box with a special message on the box which read...
To my dearest friend Sabhia,
Baked with a lovely hand,
Sealed with a kiss
Hope this will make you happy as you are reading this.
When we arrived she was still in the hospital and was to be released the next day. I kept the surprise confection at home and when she came home the next day she was so happy to see me and my son. She didn't know that there were special flowers on the cake that was waiting for her.
Her husband held her hand and said "look what Meena got for you" She looked at me and said... "you are a true friend and I just love it." She kept looking at the sugar flowers on her special cake and I could tell that she was so very happy. I am so glad that I could bring a smile to her face with something that I created especially for my friend Sabhia.