Custom Search

Castle Wedding Cakes
Castle wedding cakes for a fairy tale wedding. Getting married in a castle?


Having a Renaissance or Gothic theme wedding? What could be better than these whimsical confections?
This classic design below is very traditional looking and is made with mostly butter cream decorations. The center tier is a hexagon shape which lends itself well to the architectural feeling of a castle.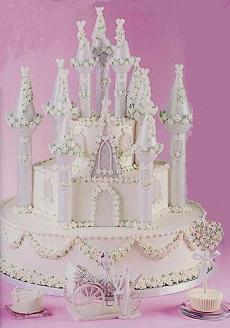 photo courtesy of Centerpieces For All Occasions.


Ideas For Your Castle Creations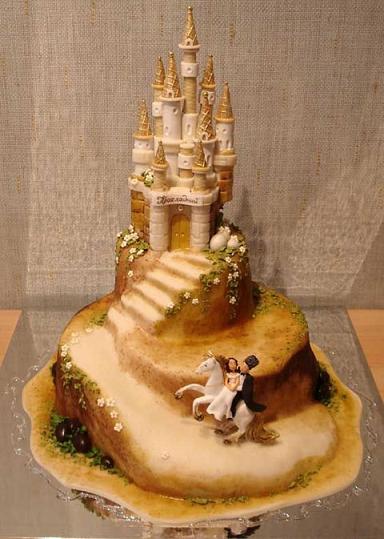 The cake shown above is made using fondant and hand painted with gold dust and other colors. This is more of a whimsical design, yet very elegant. The figurines are most likely made of gumpaste, which dries harder than fondant. The towers on the castle look almost like ice cream cones decorated with gold dust.


Cute Cupcake Castle

In all of my years of baking, decorating and designing, I have yet to receive an order for a castle WEDDING CAKE. However I recently made this cute cupcake castle creation for my grandson Braden.

You can borrow the ideas from this video for creating your own design or letting your baker know about them.
Flags are made from Fruit Stripe gum. (doesn't have to be fruit stripe but they are a nice touch.)
The towers are made from ice cream cones brushed with warm corn syrup and then dipped in a combination of graham cracker crumbs and decorating sugar for a sandcastle look.
Cupcakes of various sizes are piled on top of one another to create towers.
Melted white chocolate is used for glue to attach the flags to pretzel sticks. (you can also use royal icing)
Cheerios are used as toppers on some of the towers.

---

Elegant White Castle Cake Complete With A Fountain

Photo below is from Castle Farms located in Michigan.

The fountain is a nice touch for a majestic cake. This design has two satellites and appears to be all buttercream decorations. There is Christmas greenery around the base, which leads me to believe it is a Christmas or winter wedding cake.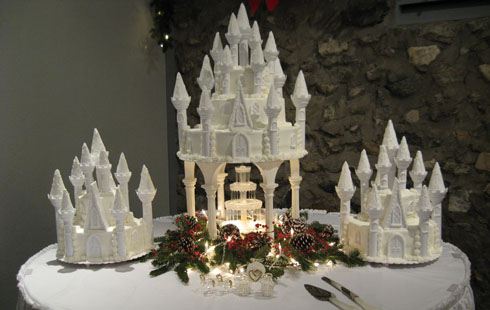 ---

More Castle Themed Ideas