Custom Search

Daisy Wedding Cakes And Buttercream Frosting

A Marriage Made In Heaven
Daisy wedding cakes are sweet for an outdoor reception or garden party theme. Buttercream frosting lends itself well to a cakes with daisies and so does fondant as you can see by the photos on this page.

The  fondant Dr. Seuss creation below was a carrot with cream cheese filling and buttercream. It was my first attempt at making a design like this. The fondant en robing was added after it was colored and the decorative pieces were then cut and placed on with a dab of moisture.

A cake this heavy needs very strong support. I use Cake Stackers now, but this one was made years ago when they did not exist. A lot of doweling was required to support the weight of each tier from pushing down on the ones below.

Sweet Little Daisy Wedding Cake

This SWEET little three tiered creation was shared by Deborah who visited the website recently. It's so simple yet very elegant with the thin ribbons decoration and colored daisies on top. Thanks Deborah :-)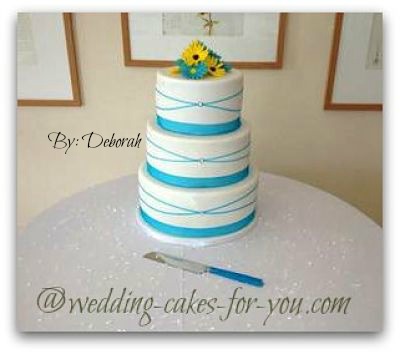 "Our friends asked us to do their wedding cake, didn't know what they wanted, they wanted to include Sweden but no idea on how or style. As the venue was stylish we went for elegance, one fruit layer, one choc and one plain"
~Deborah~

Topsy Turvy Design
Cake & photo of the whimsy daisy wedding cake design by ~Lorelie~ This topsy turvy design was a first for me. I remember it being extremely heavy as it was a carrot cake with cream cheese filling, topped with buttercream and fondant .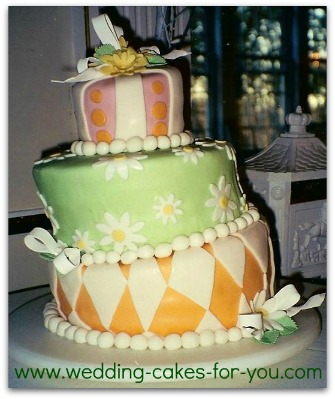 Fondant Flowers
photo courtesy of clevercupcakes, on Flickr

The cake decorating flowers on this adorable giant cupcake are made with fondant or gumpaste. It's a great example of a unique and fun design. The flowers are well executed and the toppers are adorable.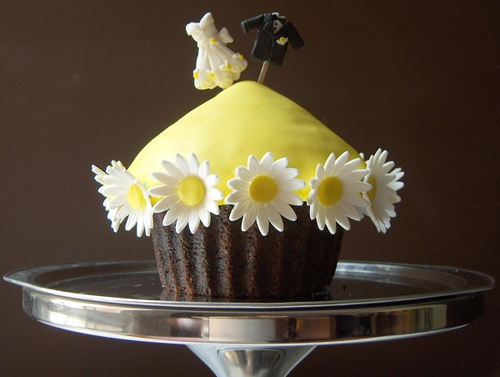 ---
Video
How To Make A Buttercream Daisy

The video shows you how to make buttercream daisies. They are not terribly difficult to make. You will see in the video an example of an arrangement that you could use on a wedding cake. I use cupcakes and a stand to practice on and to illustrate the frosting flower with fern type greenery and tiny white dots for accent.



Another Topsy Turvy Design
A fun mad hatter style daisy wedding confection.

photo courtesy of She Takes The Cake, on Flickr

GUMPASTE: Making a Daisy is similar to making a Sunflower. You would use smaller size cutters, but the process is the same. Here is the link to making the daisy at the gumpaste flowers page where it is all written out for you with step-by-step photos.

---

Silk Daisies

The design below is simply frosted and decorated with butter cream garlands, stacked and finished with silk flowers. Fresh flowers can be substituted for the silk. It's a perfect design for a first timer or for a Do it yourself bride.

~Daisy Wedding Cakes and Buttercream~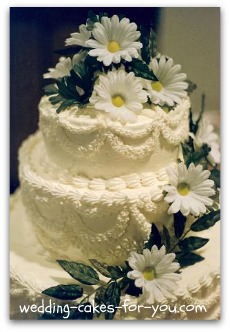 Please subscribe to Wedding Cakes For You as I add pictures and information almost daily.  Subscribe on the navigation bar to the left. If you have questions about how to subscribe click on the little question mark.

To see a tutorial on how to make fondant Roses, Dogwood flowers plus other cake decorating techniques go to here. on this website.