Fall Wedding Cake Photos
by Barb
(Minnesota)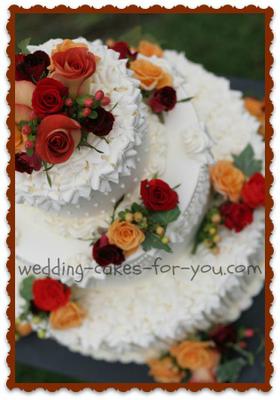 Fall Wedding Cake With Fresh Flowers
Hi,


You have a cake in your fall wedding cake photos that shows the view from the top of the cake (first photo when you open the link). It has autumn colored roses on the tiers and is 3 tiers high. It appears to have buttercream decorations on it.
(Pictured at the top of this page)
Is there any chance of getting a side view photo of this cake? My future sister in law loves this design and I would like to see the decoration on it if possible. It is a beautiful cake and I can understand why she likes it. If this cake is featured in your book, I would gladly purchase it.
Hi Barb,

Your sister in law chose one that I did not make. It was purchased at Istockphoto when I began building this website. I can't find another angle of it there, but I can see some of the details from this photograph. I will try to help you out by showing examples of cakes that I have made that have these design elements in them.

Dotted Swiss Example

The top tier is a dotted Swiss design with a border of ruffled leaves. I gave you an example of dots in the second photo. They are grouped in three, but you can also do single dots. I prefer the three together visually.

To make the border on the top one you would use a large leaf tip to make the big ruffles It's easy to do. Pipe out the leaves with a back and forth motion, randomly placing them next to each other and at different angles. It is a beautiful way to do a border. You can see an example on the gallery page of that style

of edging. It is the purple one with lots of fresh flowers and is the 7th cake down in the left column.

Garland & Cornelli Lace Examples

The center tier appears to have a garland, and the bottom tier looks like cornelli lace on the top and possibly down the sides.

You can do a simple garland using a rose tip. First mark the cake at regular intervals so that you have a guide. I just do little dots at the top edge so that I have a visual of where to start and stop each one. If you have not done garlands please practice first on another cake or a cake pan. They are a little tricky. You can also do them with a star tip, ruffling as you go, or combine the two, making a garland with the rose tip and then putting a border of piped shells or stars.

The Cornelli lace is the simplest and looks gorgeous. Simply pipe through a small round tip randomly making squiggles onto the surface. TIP: Don't overlap the lines, and take frequent breaks. Its a killer on the forearms if you have a large cake to decorate. Cornelli is great too because it can cover up little imperfections. The sample above is a fondant but it looks great over buttercream too.

The border on the bottom one looks like the leaf as well. I am not sure what the middle one is, but I would stick with the leaf ruffles on all three.

If you have not already joined Wedding Cakes For You YouTube channel here is the link to a video with Cornelli lace and Swiss dots. It is a small Anniversary cake.
I hope that helps. Good luck and thank you for visiting.

Return to Wedding Cake Questions.
This article was printed from Wedding-Cakes-For-You.com