Fall Wedding Cake
by Donna
(MT Pleasant, TN)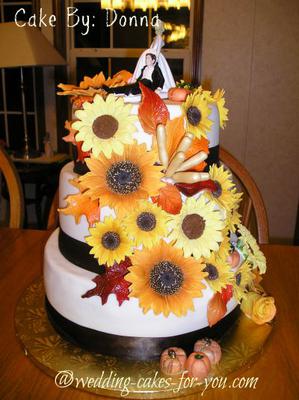 Fall Wedding Cake By Donna
I was asked to make this Fall season cake for a young couple. I can't resist anyone wanting a dessert let alone a wedding cake.
Baking and cake decorating is a passion of mine because I can let my imagination run away & then bring it into a reality as best as possible. I can doodle to my hearts content with icing & it turns to beauty in an instant.
This wedding cake is 3 tiers 8,10 & 12 inch rounds. The bottom tier is a luscious chocolate fudge with vanilla Bavarian creme, the middle tier is delicious white chocolate cake with white chocolate fudge filling and the top is a white chocolate with salted caramel filling. All of them are frosted with butter cream twice, then enrobed with vanilla fondant.
Design Tip:
Just look around at your environment, there is so much available to turn into a piece of art & all out of cake, amazing! Looking at my growing sunflowers was my inspiration, along with fall leaves & of course pumpkins.
Techniques...I study my objects & my eyes & hands just seem to follow. I just started to make my own gum glues, gum pastes & modeling chocolate. I bake every day, in some form of dessert & my growing family wouldn't have it any other way.
See Donna's
Minion Birthday Cake