How To Make Baby's Breath Fondant Flowers
by Fara
(Philippines)
Hello!


How do I make Baby's breath flowers using fondant?
Thank you so much for your help.
Hi Fara,

The Wilton how to book above is the one I swear by. Whenever I need a refresher or to learn a new flower I reach for this book. It not only has detailed clear instructions but also great step by step photos. Wilton Gum Paste Flowers Book.

Here is what you will need to make baby's Breath Fondant or gumpaste flowers.

Untinted gumpaste ( or fondant)

Rolling pin

Plastic wrap

Thin foam (comes with the flower making kit)

Stick 2 (comes with the kit)

Water and an artists brush

6 " length of stiff wire, tiny hook at end of each.

Floral tape

Here are the directions from the book.

Roll out the gumpaste on greased surface to 1/16th " thickness. Cut out twelve shapes with the lily of the valley cutter (comes with the kit)

Place one shape on thin foam. Cover the others with plastic wrap. Pull out each tiny petal from center to tip with stick 2.

Brush water on center of shape and fold in half.

Dip hook of fine wire in water, shake excess off and lay on folded shape. Fold one side of the shape over the wire, then the other side. make five more flowers.

Bind stems of six flowers to stiff wire, using floral tape. Repeat for second cluster of baby's breath.


Also consider Wilton Gum Paste Flower Cutter Set. It's a newer version and can also be bought through the link above on the same page.

Thanks Fara and I hope this helps.
How to make fondant applique...
by Christina
(California)
Cake photo courtesy of the Pink Cake Box
Question: Hi I am an amateur cake decorator. Is there an easy way to make fondant applique's... patterns such as damask or lacy or scrolls without spending a fortune on expensive cutters?? and on that note, I am not sure where to find a wide variety of pattern cutters. Any help you could provide would be greatly appreciated. This photo is an example:

Answer:
Global Sugar Art has a variety of products that can make it easier for you and I noticed that some of their stuff is not terribly expensive. They have something called Edible Images in a damask pattern. They are 4.99 for a package of three 10 inch long strips.

I am hoping that one of my readers will jump in here and give us suggestions because I have not used cutters. (with the exception of polka dots and flowers. Any damask type of decoration that I do is with piping gel and very labor intensive.

If I come up with any ideas for you I will post comments here for you and if any one out there has a recommendation for Christina please feel free to comment.

Thanks

Lorelie



Fondant swags and ribbons on buttercream cake
by Shann
(Palm Springs)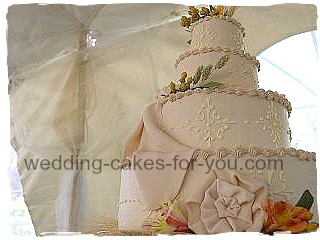 Fondant decoration on a buttercream cake
I am terrified at the idea of making my parents 50th anniversary cake for 125 people. Mom loves the fondant smoothness and I have a little experience with fondant, but she hates the flavor.

She is hoping that I can magically learn to ice a cake to look as smooth as fondant with buttercream and then affix fondant swags and ribbons to it. I know you refrigerate buttercream cakes and not fondant, so I guess I'd wait to add the fondant stuff on the last day, but will a buttercream frosting hold up to attaching the weight of fondant decor?

Hi Shann, Heavy swags and ribbons may be difficult to attach to the buttercream cake. So just make sure you keep the decorated pieces small enough so that they will not be heavy or do a design that you can lay pieces on as in the cake above. I made the large fondant flowers for this cake and drapes were easy to press on to the cakes as well.

You just have to play around a little with ideas and see what works best. Good luck and please send a picture of your finished cake. You can upload it to another form like the one you used for this entry and tell us how it all went. Thanks



Comments
smoothing buttercream
by: Anonymous
Frost the cake with the buttercream. Let it set about 15 mins. Take a smooth surface paper towel, like Viva and lay it on the buttercream and begin to lightly smooth the paper towel. Move the towel around the cake lightly smoothing. This method will make the surface of the buttercream super smooth.
Making Fondant Squared With Sharp Edges
by Vicki
(Crofton, Kentucky)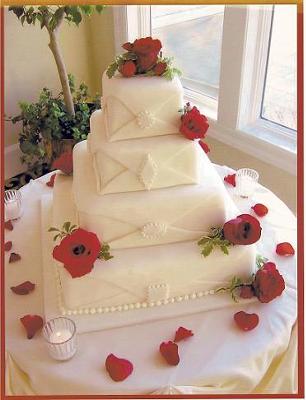 A Square Fondant Cake by Wedding Cakes For You
Hi.....
When I fondant my cakes, the top edge of the cake always curves from the weight of the fondant. I can't seem to keep that nice squared, 90 degree angle. Any suggestions?
Thanks!

Hi Vicki, To me that is the desired effect when making square fondant cakes. I don't do sharp edges (except with buttercream) and I actually don't think its possible, but I could be wrong. If anyone reading this happens to have a suggestion, please feel free to add your tips and advice.

Thanks for visiting and asking a great question. Now I have to see if I can do a 90 degree angle next time I am making fondant and covering a square cake. I will update you if and when I am able to do that.

Comments
Squared edges
by: Anonymous
If your cake is really cold and the crumb coating is perfectly squared the you should be able to mold the fondant over those edges to make them crisp-although the molding chocolate sounds like the best idea.
Thanks
by: Lorelie
Thanks for a very helpful tip on using white chocolate instead of the fondant the get crisp edges.
Edges
by: Anonymous
Using white modeling chocolate instead of fondant can allow you to get very crisp edges.
Click here to read or post comments
Making fondant shiny with glycerine
by Elva Baez
(Whittier,CA.)
I found out through a friendly cake supplier by my house, she gave me a tip on making the fondant shiny by rubbing it with glycerine. Fondent is also is made with glycerine. I tried it and the cake came out "BEAUTIFUL'!

Thank you Elva for this great tip on making fondant shiny. It makes sense to use the glycerine. I wish I had thought of that. LOL Thanks again. You can get Glycerine from your local craft shops and I believe in grocery stores as well. Or you can get it through an online source such as
Candyland Crafts

How To Make Fondant Shiny
by Jenny
(Adelaide)
Hi There,

I've been getting in to cake decorating and really enjoying it. I have used the fondant, although would like to know how to make it appear shinier rather than dry and a little dull???? I am doing a pregnant belly cake for my bestie in 2 weeks. any help on this bit would be grateful :)
Cheers Jen

Hi Jen, Their are two ways that I know of to make the fondant appear shiny. The first method is to grease up your hands with Crisco and rub the fondant with your hands as you work it onto the cake. The other is to refrigerate the cake after you are done decorating. (I usually recommend not refrigerating a fondant cake to prevent this from happening.) You could also do both, grease it up and refrigerate.

I hope this helps you to achieve the shiny fondant look that you are trying to get with your pregnant belly cake.


Comments

Shiny Fondant
by: Autumn

You can also steam your fondant with a hand held clothes steamer to shine it, add luster dust for more of a shimmery effect (paint on with vodka for best results) or spray a light coating of Pam cooking spray to it after you've covered your cake.



Fondant or modeling paste for a house cake.
by Elaine
(Derbyshire)
I am making a house cake what do I use to do walls and a roof? Is it modeling paste or fondant mixed with a little gum paste.

Hi Elaine, I would go with the gum paste as it hardens more than the fondant would. To glue the walls together and the roof use a little bit of gum paste dissolved in water. I will ask my facebook cake decorators if they have any ideas for you as well. Look for comments. ok? Thanks for visiting and asking a great question. We would love to see the finished cake. You can submit here at cake decorating pictures page if you want to.


Ribbon Around Layers
Question
Hey this is Patti again, THANK YOU!! so much for your help. I have another question, on the square wedding cake, it's going to be iced in Buttercream, and she wants " Ribbon " around the bottom of each layer, can I use any kind of ribbon?

Answer
Your welcome Patti!
I would opt for fondant ribbon which you can make yourself with strips of colored fondant. But I just did some research and found something called edible image. It's from Lucks and it is edible ribbon. You may want to check into that. Oriental Trading Company has them. Or try to find a ribbon that resists grease.

This article was printed from Wedding-Cakes-For-You.com