Fondant Wedding Cake Q&A
Get your questions answered about fondant wedding cakes. Get answers to your questions and receive excellent guidance.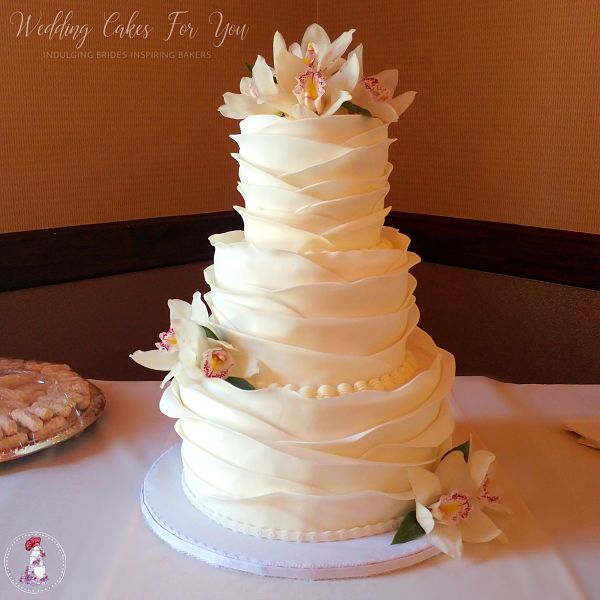 "Lorelie helped me get over my fear of working with sugarpaste, and here I am, starting my own dessert catering business!"

~Sophi Cote!
If you're looking for guidance on making a wedding cake you can find it in the Wedding Cake Guide and or Wedding Cakes with Lorelie Step-by-Step 

Others Questions and Answers About Fondant
Click below to see the questions that have already been asked and answered. If you would like to comment and add your suggestions please feel free to do so.

This article was printed from Wedding-Cakes-For-You.com
More About the Fondant Wedding Cake Page
Fondant is not so difficult to make and work with. In fact it is one of the easiest ways to cover a cake and make it look instantly gorgeous. Follow the wedding cake icing recipe for homemade fondant on these pages including directions for classic, marshmallow and white chocolate fondant. 

Cake decorating with sugar paste, as it is sometimes called, is really fun. You can do so much when using this pliable frosting. You can even paint on the surface with food coloring and make all kinds of shapes to lay over the cakes and use for borders.
Find Your Own Style 
Once you start working with this amazing edible adult version of playdough you will probably want to start making flowers. I will show you how to make Roses. You will see that every decorator has his or her own style for making the rose. Some are incredibly detailed and look very realistic, others are loose interpretations. Mine are somewhere in between.
Don't limit yourself to vanilla. Sugar paste comes in a variety of flavors and colors. White chocolate and dark chocolate are two of the many flavors to choose from. Your guests can easily peel away the outer layer to get to the yummy buttercream and cake beneath the surface.