Modeling Chocolate Questions

Do You Have Modeling Chocolate Questions? Ask Me


Ask your modeling chocolate questions here and see the tutorials for making chocolate roses, leaves and vines below.

"Thank you for the time you spend helping us newbies. You explain things in a way that puts us at
ease and gives us the confidence to forge ahead".

~Wedding Cakes For You Visitor~

UK VISITORS  Read the Q&A on the best substitute for corn syrup. 
Welcome "Wedding Cakes For You" Visitors

There are so many pages of free information and just about every question you can think of is here with an answer. 


Video Recipe For Modeling Chocolate

---

Written Tutorial with Pictures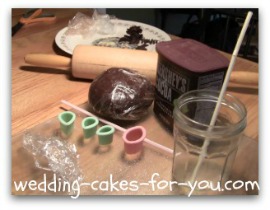 One recipe of modeling paste, rolling pin, rose petal cutters, leaf cutters, cocoa, plastic wrap, straw or pencil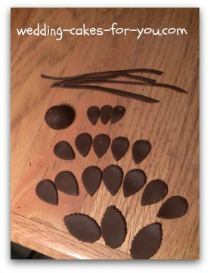 Cut 3 small, 5 medium and 7 large petals for the rose, a few leaves and some thin strips for vines

Make a cone as a base for the rose

Thin out one long edge of each petal between plastic wrap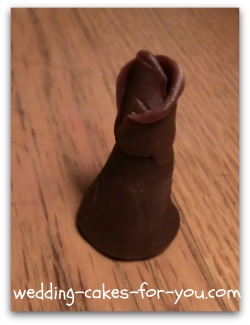 The first petal wraps tightly around the tip and the second one wraps around so that it overlaps the first. Furl the edges of each petal if desired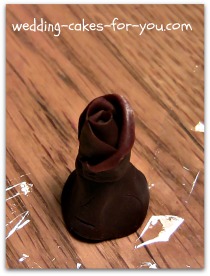 Here it is with three petals

The last petal is being placed on the rose

Keep the petals in place while the paste drys by crumpling plastic wrap around it. You can also curl the leaves for a more natural look and place them on the plastic wrap to dry.

Press the leaf onto a WILTON vine mold to make an impression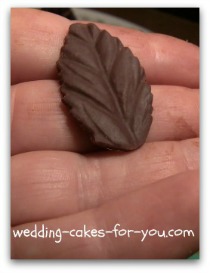 The finished leaf

Twist a thin strip of modeling paste onto a straw or pencil to make vines. Slip them off the straw right away and let them dry.

The Finished Rose-Leaves and Vines

I hope this page helps you to get started with chocolate modeling. It's really a very easy recipe and is very simple to work with. Plus it tastes delicious too. Make sure you use a good high quality chocolate and do not use milk chocolate.

Q&A

Fellow Cake Decorators, DIY Brides and Bakers: Please feel free to add your expertise to the modeling chocolate questions and commentary. Thank You :-) And thank you everyone for all of the nice comments and amazing testimonials

Happy Baking and Cake Decorating!

~Lorelie~
NEW!!!!!
Please look through the answers below. Most likely your question has been answered already. 

My  wedding cake and recipe book answers all of your questions about baking and constructing your first wedding cake. Once you become a customer you will have access to Lorelie's Cake Crew on Facebook and 24/7 Q&A 
Thanks so much Lorelie Carvey
What Other Visitors Have Asked!
Click below to see questions from other visitors to this page...

This article was printed from Wedding-Cakes-For-You.com