We were blessed with beautiful late-May weather for our simple outdoor wedding. The apple trees, lilacs and wisteria were all in bloom.


I had a wonderful, hazelnut wedding cake decorated with fresh flowers created by Lorelie of "Lorelie's Luscious Cakes". Now called "Wedding Cakes For You"She must have baked me 3 or 4 samples before I decided on the recipe. They were all delicious, but I think I was asking her to replicate a flavor from my memory.
She had suggested we also have a groom's cake, for my husband love of chocolate. Knowing his love of strawberries, we decided to top it with chocolate-covered strawberries.
When it came time to cut the cake, we wanted something different. So, we chose James Brown's "I Feel Good" as our "cake" song. After being fed a slice of cake, I chose a strawberry and fed that to my new husband then we each turned and offered one to a nearby guest. Soon a line had formed and every one of the strawberries was offered to a guest.
"Our wedding cake and grooms cake!"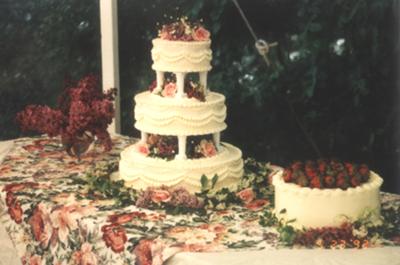 Comments


cake
by: Liz

I love that picture of your wedding cake! What was your dress like?

The dress
by: Gini

My dress was beautiful... lots of lace and very fitted.
It was also my "something borrowed" I wore my dear friend Michele's wedding dress, she was one of my attendants, AND it was her 6th wedding anniversary!

Awesome Wedding!
by: Lorelie
Gini and Mark,

I remember your wedding as being magical. The weather was perfect and it must have been the most beautiful day of the year!

Thank you for sharing your cake photos and story. I LOVE the picture of you guys feeding the chocolate covered strawberries to the guests, and to the tune of I Feel Good!

It was truly a unique wedding celebration!

Join in and write your own page! It's easy to do. How? Simply click here to return to Grooms Cake.
For a Die-hard Eagles fan
by Julie
(Tinton Falls, NJ)
My son-in-law is a huge Eagles fan and it only seemed appropriate for me to make him an Eagles cake for the wedding. He had no idea- but it was so easy- I have decorated cakes for years, but I knew I wouldn't have time to do the image, so I ordered it and decorated around it. He was pleased with the result.

Thanks Julie for adding your son in laws grooms cake to the website. Very nice, he must have been so happy with his surprise cake.


Join in and write your own page! It's easy to do. How? Simply click here to return to Grooms Cake.
Guns and rifles for a grooms cake
by Suzanne
(Newport, ME)
I am searching for the small guns/rifles to put on the grooms cake with my hunting/trapping theme. I already have a bride and groom topper, but wanted to add the guns to them. Do you have these available? Or do you know where I can find them?

Thank you.

Hi Suzanne, I don't have guns and rifles for cake decorations available. I found these cake kits in the photos above that you can find online at cake decorating supply websites. But not individual guns and rifles. My suggestion would be to either use miniatures from a hobby or toy store or make them from gumpaste.

Good luck in your search. If you do find them can you let me now where and please upload a picture of your hunting themed cake. We would love to see it.


Join in and write your own page! It's easy to do. How? Simply click here to return to Grooms Cake.
Gambling on a chance at Love
by Edith Sieg-Reed
(Newport News, VA)
A co worker announced they were getting married, but wanted a simple wedding. The husband joked that it wasn't fair that his wife got to "choose everything." I told them about a groom's cake, he was all for it. Yet his wife picked out the theme for it as well LOL! The couple had a beautiful wedding and are still going strong after 5 years.

Thank you Edith, I love this story and the cake is cute. I am sure the groom was thrilled to have it. Thanks for sharing your grooms cake with us.
Join in and write your own page! It's easy to do. How? Simply click here to return to Grooms Cake.
Grooms Cake Catch of a Lifetime
by Maleah
(Tennessee)
Grooms Cake
I made this for my sons wedding. This was for his Grooms table. Everything is edible except the greenery and the spinner bait.
When he walked out and saw it he was speechless being it was a catch of a lifetime.
How I Did It
The fish cake is made out of cereal treats wrapped in fondant, the fins were cut out and molded of fondant by hand and painted with tinted food coloring. The base is chocolate and the rocks around it were just for show.
No tux for me!
by Colleen Charles
(Clarklake, MI)
The bride wanted a groom's cake but the groom wouldn't be wearing a tux; not his style! So I made a cake in a 'relaxed' shirt... Marble cake with Italian Meringue Buttercream and modeling chocolate decorations.
This article was printed from Wedding-Cakes-For-You.com