I Love My Job
by Cheryl
(Brookfield, CT, USA)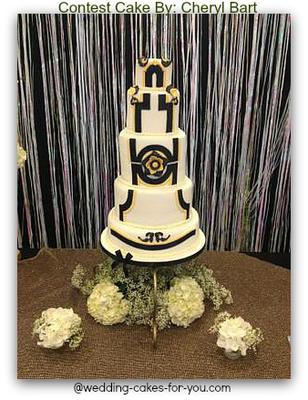 Great Gatsby Theme Cake
My name is Cheryl and I am a stay at home mother of two. In February of 2013, I voluntarily left my corporate job of 10 years to pursue a new career of cake decorating.


A LEAP OF FAITH
It is a huge leap for me but I figure now is as good of a time as ever to try it.
My business is Who Wants Cake and it is run out of the comfort of my own home.
I have a commercial kitchen in my basement and I hold a food license and am fully insured. I always knew I wanted to get into the creative foods business so when my husband and I were looking for houses we made sure there was a room I could one day turn into a kitchen.
HOW IT ALL STARTED
I started cake decorating in 2007 when I made a cake for my niece's 2nd birthday. Each year, it was my job to make her birthday cake.
From there it snowballed and I was making cakes for friends and family and eventually people I didn't even know.
All that I do and know is self taught by doing internet research and using trial and error techniques. I enjoy trying new techniques and can spend hours in my kitchen with no complaint (except for doing the dishes!).
I can finally say I love my job.
CAKE DECORATING CONTEST ENTRY
The cake I am entering into this contest is one I am most proud of. Not because of the design or how it came out but because of what it stood for. I was asked to donate this cake for a Gala that was being held to benefit the community of Newtown, CT post December 2012. I was given a picture of the desired cake and informed it was a Gatsby Theme. I had so much fun putting this together and the feeling I had after setting it up for the Gala was indescribable.
This was the least I could do to help my neighboring community and I am so proud to say I contributed to such an honorable event.