Japanese themed hand painted cake
by Cosette
(Rainier, WA)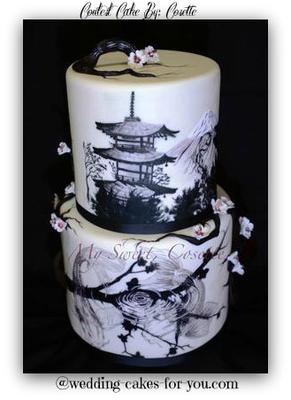 CAKE ART


So, I married an artist. My husband has been involved in studio arts since he was a child. He even attended college to obtain an art degree.
Unfortunately, college isn't cheap and he decided to enlist in the military. His time in the Marines and now the Army hasn't afforded much opportunity to complete his art degree, however, he has used his free time to maintain his skills.
CREATING A UNIQUE NICHE
Since taking on cake baking during his last deployment, I have continued to hone my abilities in cake decorating. My husband and I wanted to showcase a style of decorating not many can duplicate; free-hand painting. We were aware that there were ways of making prints and learning techniques from Craftsy, but my husband's skills are those that are developed over a lifetime of practice- not a 60 minute video. This was a way we could create a niche for ourselves.
FANS OF TATTOO ART
He and I are also fans of certain styles of tattoo art. Obviously, there were already cakes made in the fashion of tattoos- more specifically Japanese and koi tattoos. Some of them were done beautifully, too. Conveniently, the style that my husband and I like had not been commonly made yet; that is, black and grey tattoos. We are particularly fond of tattoos with three dimensional and natural effects. This was to be the muse for our first free-hand painted creation.
MY HUSBAND THE CAKE PAINTER
I was preparing for a wedding expo and a little nervous for it, as it was my first. My husband volunteered to paint a cake, styled after Japanese tattoo art. A big portion of the time, my husband is the idea factory. He thought it would cap the artwork of the cake off if we added gumpaste cherry blossoms and fondant branches- the cherry blossoms were the only color added to the cake. Being a black and grey cake, the colors of the blossoms popped quite a bit. The branches really added an awesome natural look with a little three dimensional styling.
We were pleased with the way this cake turned out, but we had no idea of the reception it would get. Out of all my cakes, this one probably nabbed the most attention and led to many call backs and inquiries.
Knowing my husband, he never would have imagined being a cake painter. Since his first hand-painted cake, though, he is always excited to be trying something new and original.