Leveling your cake tiers
by Colleen Charles
(Clarklake, MI)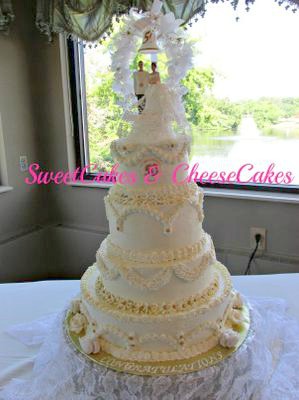 Not Level
Everyone eventually learns that you have to take the time to level your tiers or something gets lopsided.


I had a mortifying experience last month because I DID NOT TAKE THE TIME to do this with every tier. When I set the cake up at the venue, the top was definitely leaning and I cried all the way home.
Fast forward to the next week as I was struggling to level another cake and the more I took off the worse it got using my level tool.
My husband ( a carpenter) was sitting at the counter with a disgusted look on his face and he told me, "you know, if your base that your cake is sitting on isn't even, your cake will NEVER BE LEVEL" I looked at him with a deer in the headlights look and he 'graciously'(lol) got up and showed me how uneven our counter top was, which made the turntable the cake was sitting on NOT LEVEL, and so the cake tier was leaning.
He put a few shims under the turntable and got it straight and he proceeded to level my tier. But every time I moved the turntable or knocked it a little, I would have to re shim it (put little pieces of plastic under it). He then suggested that I find an even surface to start with. I decided to try our wood dining room table and it was spot on with the little gizmo tool he gave me.
So I dragged the table into the kitchen and sat down to straighten and decorate. Much easier, more space for me to put all of my stuff on, and hardly any trimming was necessary.
Moral of this story:
invest in a 'gizmo' that has a little bubble in it to sit on your _______ to make sure it's level and a good even table that you can sit your cake on. Everyone will be happy happy and no more crooked cakes!
Visit Colleen's business page on facebook https://www.facebook.com/SweetCakesandCheeseCakes