Make Your Own Wedding Cakes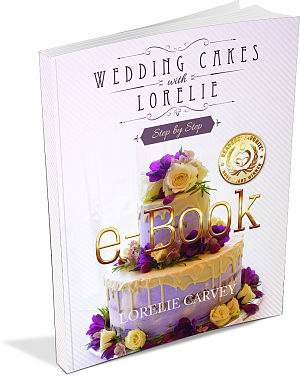 Wedding Cakes For You e-Book provides aspiring bakers with the recipes and steps for building skills and confidence to create beautiful cakes and cherished memories.
The blue Buy Now button will take you to a secure checkout page at Sam Cart where the book files are stored and delivered safely.
Read testimonials 

A Homegrown Cake Story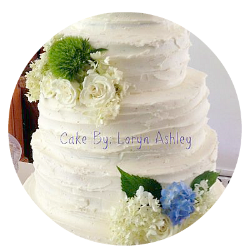 "Your e-Books, your instructions, your tips, just everything you offered helped me pull this off. "It wasn't perfect, but it was delicious. 
I iced and assembled the cake out here (the Hamptons) and two strong men loaded it in the back of a station wagon to drive it from the Inn to the wedding.  The bride cried when she saw it and people couldn't believe I had done it. It was a home grown wedding on the water and I brought the "home grown" cake! 

Thank you, thank you, thank you. You were my wedding cake angel. I am attaching a photo...it's kinda messy and kinda lopsided, but hey! Not bad for my first wedding cake".
Warmly~Loryn~
---
For the home baker or professional with a thriving business
Wedding Cakes with Lorelie Step-by-Step book and video have been formatted with everyone in mind. They include:
Step-by-step instructions on how to bake, construct, decorate and deliver your cakes

Access to accompanying recipe videos and tutorials – providing you with visual guidance each step of the way
Recipes with full color pictures
Bonus eBook with information about starting a cake business (PDF bonus at the customers only page) 
High definition step-by step video from oven to decorating table (At the customers only page)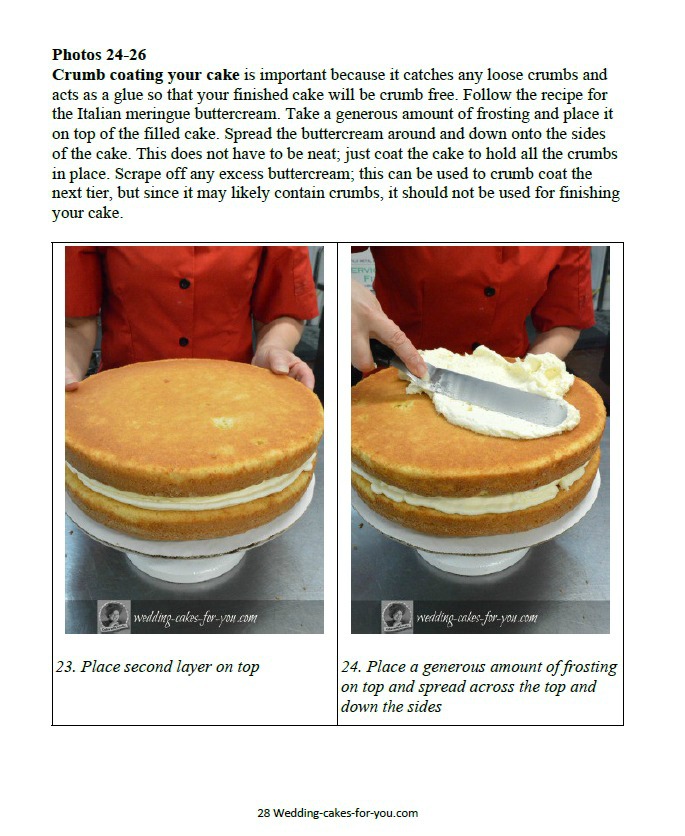 Tried and true methods for freezing, crumb coating and frosting
Your most frequently asked questions with detailed answer
Pan sizes, servings and batter amounts for each recipe


Emergency substitutions


Discount on Cake Stackers
---
 
Wedding Cakes with Lorelie Step by Step Helps Builds Confidence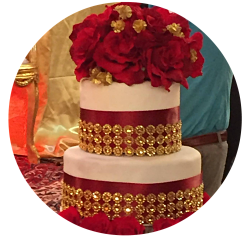 "I made my first wedding cake with the help of your e-Books Lorelie Carvey. I used your vanilla cake...and chocolate ganache (everyone loves it) My cakes have never looked so smooth.

Thank god for your cake support group... I feel much more confident now doing a wedding cake."
~Yousra Said~

Up Her Game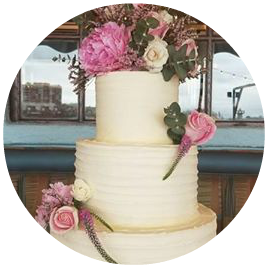 "I just wanted to thank you for your help in creating my first engagement party cake. 
Normally I just do birthday cakes. You helped me up my game. Thank you!!!"
~Sandy Poazza Nizinliewicz~ 
You also have access to a step-by-step video to accompany the e-Book
Follow as I make a beautiful  wedding cake from scratch. You will see the entire process from baking to decorating. 
The video can be watched on a password protected page right here at Wedding Cakes For You. The video will show you step-by-step how to...
Make the batter and bake your layers
Test for doneness
Wrap and refrigerate or freeze
Fill, frost and crumb coat the tiers
Construct the tiers with dowels 
Finish and decorate your amazing creation
" Just watched your companion video to your books and I thought it was awesome!   The stacking part was most helpful to me.  You make it all seem so effortless!  "~Tammy Lapenta of Buttercream Beauties and Sugar Bouquets~
"Wonderful video you are so pleasant, calming and reassuring and a joy to watch!!!"~Sherri Ferguson Riehl- Make A Wish Cakes~
"Thank you Lorelie, it worked perfectly and enjoyed watching the video, very informative" ~Customer Susan Quigley~
You will literally have all the knowledge and recipes you need to make the best wedding cakes you can possibly imagine, right at your fingertips!!! 
Not Convinced? 
Take a browse down this page and read more of the wonderful things my book customers are saying and check out their creations with rave reviews about the recipes.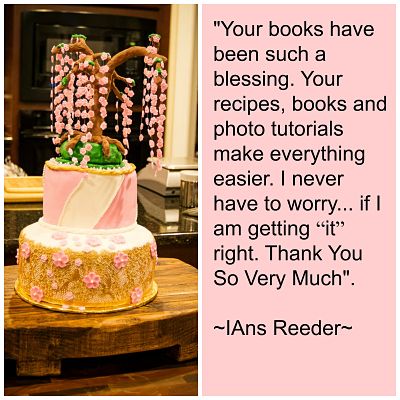 Read what Sylvia from the UK said...

~Sylvia Mosca UK Nov 2016~
"Hi Lorelei, Just want to say thanks for the White Wedding Cake recipe (especially for the metric conversions!). I made a 5-tiered naked wedding cake using Italian Meringue Buttercream (which I use ALL the time) which was a hit! I now use the variation when making the IMB - i.e. Adding some sugar in the meringue and increasing the temperature of the sugar syrup. Works like a charm and holds its texture well. I now use the WWW for all my vanilla cake recipes. I couldn't understand why my cakes were heavy when I used recipes from the USA (I'm Australian) until I realised that your cup and spoon measurements were different to ours (hence why I was thrilled that you included grams in your recipes). Thanks for doing that. Love your cakes and your books! Thank you!"

Are you a do it yourself bride?


The step by step approach in my books and video are so clear and concise that even someone who has never baked a cake can follow the directions with success.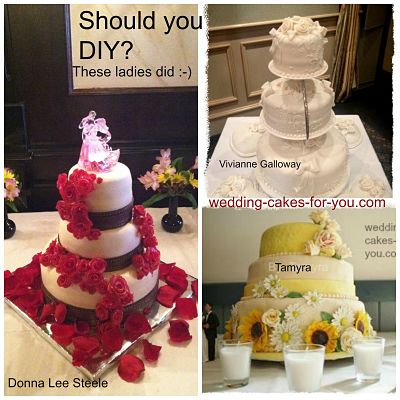 Diy Brides at Wedding Cakes For You
"Thank you so much for your dedication on making the step-by-step explanations. I am a Venezuelan living in Chili, my husband is Chilean and we met in France. We share a lovely story topped with the adventure of making our own wedding cake, he helped me all the way through! Thank you for making this experience possible!"

~Vanessa~


From The Cake Stackers Team and More...



"We LOVE the pictures. They help to make it easy to follow and learn the process of how to make your own wedding cake. Having the recipes is so helpful. Your directions are clear and it is very upbeat. The chapter layout is coherent so a person can look up just what they might need. We appreciate you giving little tips throughout the book as well."~The Cake Stackers Team~
"WOW! Incredible book I love it. Your book helped me a lot as I have a lot of questions about cakes. I read the book and you answered all my questions. I really appreciate all your tips and the recipes. They are so helpful. I'm so happy with the book. Incredible thank you."~Leslie De Leon~

Order your copy of "Wedding Cakes With Lorelie Step by Step" to create delicious and delightful wedding cakes

"What an amazing book. Thank you. I downloaded it and find it so absorbing. There is so much detail. You make everything about a wedding cake seem so easy. I am taking my time going through each chapter and feel my toes curl with excitement!"

~Frangipane, South Africa~

A final word from Lorelie …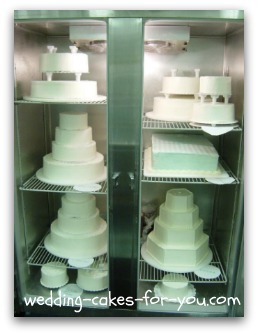 Cakes Awaiting Decoration

During the first few years of working in the pastry business I learned from many mentors who shared their experiences with me. With all kinds of situations and a few mishaps along the way, the School of Hard Knocks wasn't easy at times, but it did pay off in the end.

Now you can benefit from those years. I am sharing it all with you in my e-Books and Video guides to making wedding cakes.

I am so sure that you will be happy with your purchase that I am offering a 30 day money back guarantee. You may contact me anytime with questions about the e-books or video or if you would like to learn more about me go to about Lorelie


THANKS FOR VISITING!
This article was printed from Wedding-Cakes-For-You.com