My Eldest Sons Wedding Cake
by Ray Leger
(Moncton NB Canada)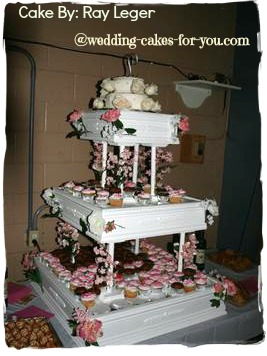 My name is Ray Leger, last month's square cake contest winner. I had stated that it was my first wedding cake, to some extent it was as it was the first stand alone design.


But a couple of years ago my eldest son Matt got married and I had made the cupcake wedding cake stand with 250 cupcakes topped with a small two layered cake. What was unique about his wedding celebration is that it was on Halloween night and a costume masquerade affair.
On The Road
As I am on the road all week driving a semi for a living it's pretty hectic trying to get everything done in a day and a half, but I perform well under pressure lol.
As always I had to come up with something unique, so I created this three tiered stand with the top tier holding the two layered cake which was covered with rolled fondant and butter cream frosting.
The white fresh flowers were set in the cake with water spikes to keep them fresh.
The 250 cream filled cupcakes were of assorted flavors and frosted with buttercream frosting. Although the creation is of a simple design I think it is original.
Weekend Cake Decorator
As I only have two sons and now they are married I wonder when and where I'm going to have a chance to practice my baking and decorating skills, or as this example, cup cake creation. Maybe anniversaries or birthdays but it won't be on such a grand scale. I guess I could retire and become a cake maker, not a bad idea.
As I stated in my earlier entry, it's not all about winning it's about sharing our ideas with others and learning from each other. A very big thank you Lorelie for this opportunity.
Rays
Square Wedding Cake Surprise