Owl Wedding Cake
by Khandra Henderson
(Lodi, Wisconsin, United States)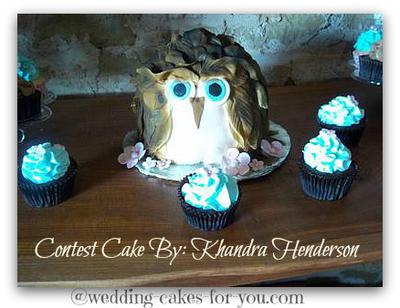 Robin Blue Owl Wedding Cake
A UNIQUE DESIGN


I was asked to make delicious cupcakes and a mini Owl wedding cake this summer. The color theme was robin blue, so I had to incorporate that into the the theme for the cupcakes and the unique small owl design.
CAKE FLAVORS
I was asked to make 100 of the cupcakes, with four different flavors. The first flavor I decided to make was white on white which was a fluffy vanilla cake iced with vanilla buttercream.
The second flavor I made was a chocolate/chocolate, which was a devils food recipe frosted with a chocolate buttercream.
The third flavor was a lemon cream cheese, which was fresh lemon cake topped with cream cheese frosting. The last flavor was a chocolate mint cupcake, which is a devils food with a mint buttercream.
All of the frosting on the sweet little confections were a robin blue( and some had the chocolate frosting ha ha) They were topped with pink gumpaste cherry blossoms, which the bride requested as well.
BIG BIRD OR OWL
The centerpiece mini wedding cake was to be the owl which was made out of the devils food recipe, and was filled with chocolate and mint frosting. He was also enrobed in fondant and originally his coloring was more of a yellow. I decided the owl looked too much like Big Bird, so I air brushed him brown. The owl had layering of feathers on it. The feathers were individually cut out, veined, and shaped with fondant. They were then individually "glued" on with water.
THE ARRANGEMENT
There were also pink gumpaste cherry blossoms on the base of the cake board next to the owl. At the wedding reception the cupcakes were arranged beautifully on a wooden bench, there were two towers containing the various flavored cupcakes. Then two containers off to the side holding more yumminess. The owl was the centerpiece of the display and the cupcakes were arranged around it.