Penguin Cake Holiday Fun
by Kat MacElwain
(North Las Vegas, NV)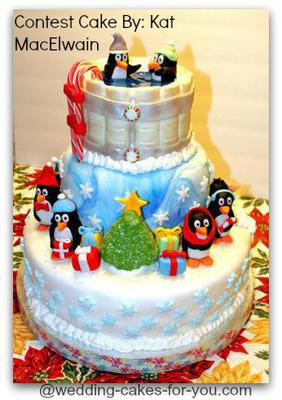 Front Of Penguin Cake
HOW IT ALL STARTED


I have always loved baking. All through junior high and high school I took every home economic and cooking class they offered and always baked cakes for my friend's birthdays. Though of course in those days it was just out of love of baking and to see people's faces light up at getting goodies.
Back then I had no idea what truly could be done with cakes. What started me on my path of decorating them was my own wedding four years ago. Being on a tight budget for the wedding and reception,
I was on the hunt for an "affordable" wedding cake.
It was a disheartening adventure when I couldn't find one under three hundred dollars. So I began to think, maybe I can make my own; I loved to bake and "Hey how hard could it be, right?" Boy was I wrong. It began to get pricey and too time consuming to make my own, so I gave up the idea and continued my search.
I finally found a woman who ran a home based business and she gave me quite a deal plus I loved how it came out!
It got me to thinking; I could do that…so I started taking all the Wilton classes at the craft store.
Believe it or not
my amazing husband took the classes with me,
while it's not his skill set and it's not his passion; he took the classes to be with me and to be my assistant. He is the best assistant ever; it's so amazing to know he's there to help and knows what I'm talking about and what I'm trying to do.
THAT SPECIAL CAKE
Last Christmas I was asked to do a cake for
St. Jude's Ranch
for their holiday party. I was so honored to do
this cake for such a great cause. I brainstormed and came up with the idea of a penguin cake with a holiday theme.
I decided to make it "In the Round", meaning that from any angle there was a story going on. The top was a penguin spa, the front of the cake was the family passing out presents and the back was penguin kids having some wintertime fun.
It was my first "major" cake and my first BIG three tier cake. It took me a total of 18 hours to create it, and it weighed well over 30 pounds.
Many times I felt I was in over my head and worried that it wouldn't come out well. Not to mention we had to drive it way across town, a 45 minute drive with this massive three tiered cake balanced on my lap.
Every stop, turn and acceleration terrified me.
As for the cake itself, each layer was a different flavor: chocolate, vanilla and confetti cake, filled and covered with buttercream icing. All the penguins were made out of rice cereal treats and fondant. The Christmas tree was a fondant covered sugar cookie. The spa was created by using white chocolate planks (made from a candy bar mold) and the ladder was two candy canes held together with "fondant steps".
I wanted this cake to be perfect for the kids.
It was the greatest feeling to show up at the celebration carrying in this mammoth of a cake and seeing all those little faces light up!
I was told afterwards that they all argued over who got to take a penguin.
HELPFUL CAKE DECORATING TIP
I found for a better tasting and smoother finish on the candy walls for the spa, it was better to use Toll House white chocolate chips instead of the traditional candy melts.