Renaissance Wedding Cake
by Julie
(Laurel, MD)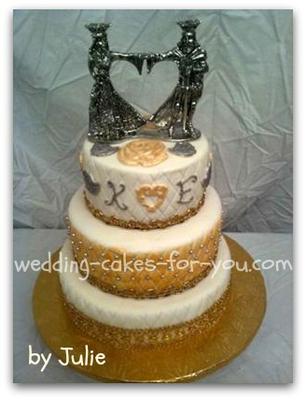 Hi, Lorelie!


A while back, I posted a question about how to support a 1+ lb. cake topper and you and the website community were so very helpful and encouraging. Here is the link to that page where I asked about
supporting a narrow heavy cake topper
Today was the big event and I wanted to share my pics with you. This cake was for my girlfriend?s wedding at the local Renaissance festival. She and her fiance work there on weekends.
I ended up creating a dummy top tier out of Rice Krispy Treats covered in fondant, and it held up the weight of the topper very nicely. I used a Wilton Baroque silicon mold to make the hearts, rose and leaves on the top tier and I coated them with gold & silver petal dust.
This was my first time using a fondant quilting tool. I used an impression mat, which I wrapped around each fondant-covered tier. It didn't make a very deep impression, however, so I used a fondant quilting wheel to go back over the lines.
The middle layer was spice cake with a caramel pecan filling. I used a latex makeup wedge to sponge on gold glaze, then I attached the silver dragees with dots of royal icing.
The bottom layer was lemon with key lime filling. The gold ribbon trim is leftover from the bride & groom's wedding attire, which the bride sewed herself. It really gave the cake a very elegant look (and covered up most of my fondant flaws!).
I used your
freezing technique,
which made the cakes easier to handle. I also used dowel rods to hold up all that weight. We had to hand-carry the cake all the way to the back of the festival grounds, about half a mile over uneven terrain.
The bride and groom loved the cake and the guests did too. Thanks very much again for all your help!
What a story. You actually hand carried the cake for a half-mile over rocky terrain? That is amazing, Must have felt like you really were living in that time period!!! Thank you very much for sharing this and I am so happy that my visitors were able to help you out. This website is developing into a nice little community of very helpful cake decorators.