Sea Shell Wedding Cake
by Julie Mikula
(Tinton Falls, NJ)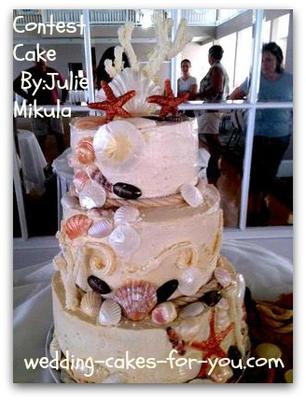 Front
A Sea Shell Wedding Cake For A Wedding on the Beach
My nephew asked me to make his wedding cake since he didn't care for the cakes that were being provided by the venue bakery. He and his fiance wanted a sea shell wedding cake, so I proceeded to purchase a variety of shell molds and dusts and experimented with making chocolate shells that looked real.
In Search Of The Perfect Scratch Cake Recipe
I also hate the flavor of box cake mixes even if they are combined with other ingredients like flour-so I began the search for the perfect scratch cake. After 3 tries, I found one. Perfect every time. I made 9 layers and wrapped them well, putting them in the freezer a few weeks ahead.
I found the perfect swiss buttercream frosting recipe from the Crumb Boss and made 3 double batches and refrigerated them the week before.
TIP:
(The bride wanted an ivory cake, so I left the butter and and used Madagascar vanilla instead of clear).
A Most Delicious Raspberry Filling
Finally I made a raspberry filling from 3 bags of frozen raspberries and a jar of seedless preserves.
Defrost the raspberries and sieve out the seeds. Place all of that into a large pot and thicken it with cornstarch. Then add 3 tablespoons of raspberry liqueur Awesome!
I placed the tiers off center, all straight down the back to leave more room for shells in front. Doweled the cake layers and put a center dowel through the top. This served to be appropriate for the large shell on top, plus a handle for my niece (poor girl) who was to ride in the back with the cake.
Using a silicone rope maker, my niece used fondant to make pieces and dusted with gold dust. We placed them around each tear. Then placed shells from top top bottom in an S shape. Left the large shells and coral for the venue.
The large coral on the top was a skewer on waxed paper. I squirted vanilla coating to look like coral. Since they didn't want a topper, I used two starfish to represent them.
And last but not least, I purchased graham cracker crumbs, put on parchment paper and scattered shells on the crumbs for people to eat. My niece made a heart and put their initials in it.
Thank you Julia for a fantastic cake story with tips, and a great recipe too.
Check out another beach themed design, a
sandcastle wedding cake.