Custom Search

Sea Shell Wedding Cakes For You!


Sea shell wedding cakes for your beach side wedding. Browse the tropical wedding cakes and beach wedding cakes for ideas.

White Chocolate Sea Shells
The most recent sea shell wedding cake. A three tiered chocolate buttermilk cake with chocolate mousse and raspberries...Yum!!! The cakes sizes are 12 inch, 9 inch and 6 inch. It's frosted in buttercream and decorated with gumpaste waves, royal icing corral and white chocolate sea shells detailed with glittery pearl dust.
Elegant Seashell Wedding Cake
This seashell wedding shower cake was delivered to a yacht club. Enjoy the video which is a sped up version of the making and delivering of this gorgeous ocean themed cake. 
Link to the video on YouTube

A Basket of Sea Shells

The beautiful texture of a buttercream/basketweave cake below, combined with a collection of real shells, is stunning. Pillars and plastic plates are used to give the cake height and for a place to put the seashells under each tier.
The entire cake pictured here was three tiers, but I do not have a copy of the full view unfortunately. Flowers and seashells together are a nice touch and added to all of the contrasting textures and colors of this design.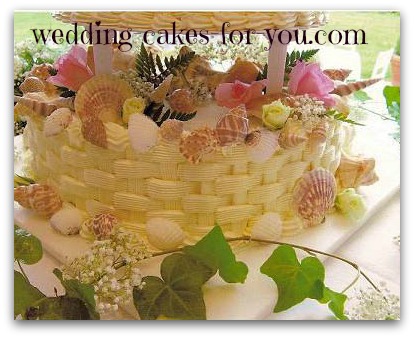 Decorators feel free to use the designs here for inspiration. If you use the photos on any of your website or blog pages, I ask that you give credit and a link back to Wedding Cakes For You. Thanks :-)
See more basketweave cake decorating ideas.

A Unique Wedding Cake Topper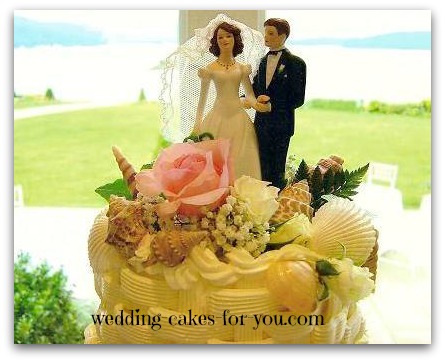 There was a lake view in the background which also lends a beach theme to the sea shell wedding cakes theme.   

Enjoy! and I hope you find the cake inspiration for your wedding day.The top to the seashell buttercream cake is shown above.

More Examples of Sea Shell Wedding Cakes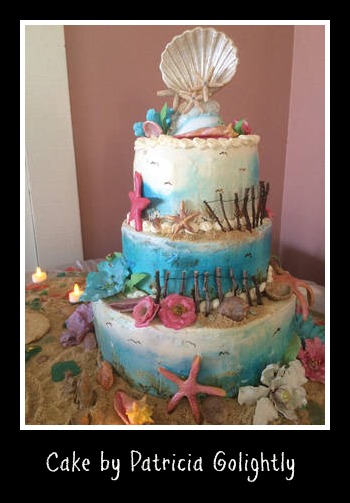 You saved me.  I had been in California making my first wedding cake for my sister. You gave me the confidence to finish the scary project. I was terrified it would start leaning or something but It came out great and every recipe was from your e-book or website. I even used your chocolate bourbon pecan cake for the top level. All the best,
Patricia Golightly
A sweet example of a sea shell wedding cake by Melisa Brown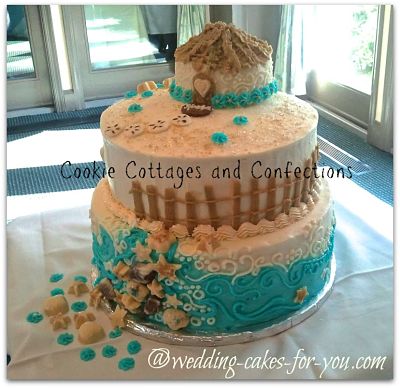 Shared at the Facebook page and now featured here is Melissa Brown's design that she made for her niece. The bride and groom were headed to Puerto Rico for their honeymoon.

Cookie Cottages and Confections

---
A fantastic design by Sarah Tosney
Cake By Sarah Tosney

Subtle details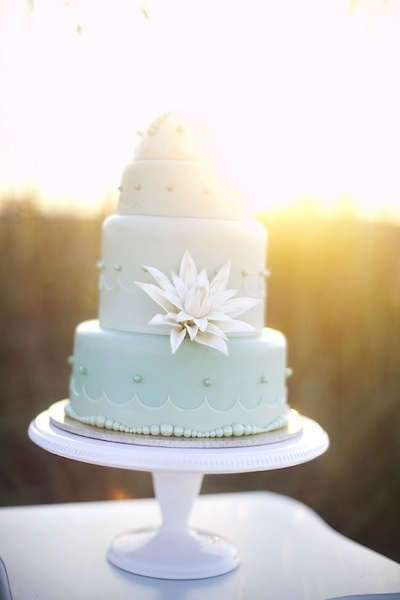 From Intimateweddings.com

So pretty. The graduated colors from dark to light a.k.a ombre fondant is a nice touch too.

---

Natural Beauty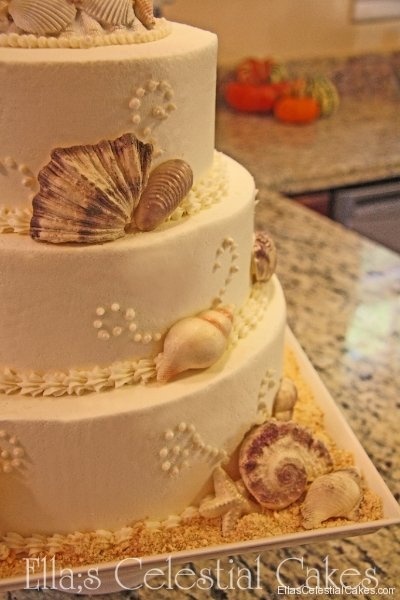 By Elia's Celestial Cakes
A very natural looking cake with white chocolate sea shells and graham cracker sand?


Cakes From Visitors

There are many opportunities to add your cakes if you would like to . Here are a few of the beach themed ones that people submitted with stories and recipes.


Fondant and Royal Icing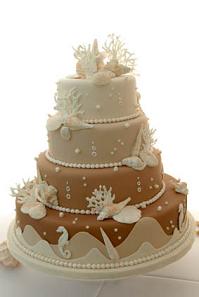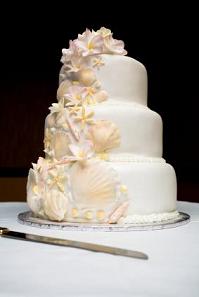 These two images are from Istock. The beige ombre cake is very nicely done. Royal icing  is used to make the coral and the little bubbles. White chocolate or gumpaste is most likely what the sea shells and the seahorses are constructed with.
A garland of seashells adorn this three tiered wedding cake on the right. Looks like a fondant with buttercream borders and gumpaste decorations.
If you would like to add your cakes go here.