Unique wedding cake topper ideas?
Unique wedding cake topper ideas?
by Jenn
(Cleveland, OH, USA)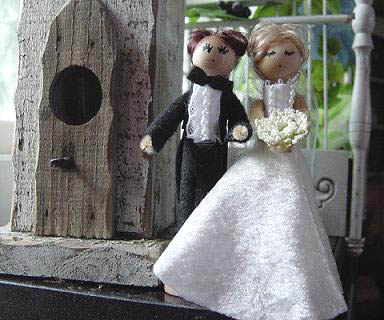 Homemade clothespin doll toppers
I know this does not directly correlate to wedding cake making, but I was wondering if you could weigh in on wedding cake toppers.


So far, I have only been able to find ones like these...
http://diggleby.com/wedding-cake-toppers/picture-perfect-couple-figurine-newly-tagged-wedding-cake-topper/
and I was wondering if you had any unique ideas on how to make a truly original topper along with the cake?
Thanks!
-Jenn
Hi Jenn,

It all depends on your theme, size and style of cake but maybe I can help to spark some ideas.

Check out the bunny toppers surrounded by royal icing flowers that I made for my sister in law. We took a figurine and made it even more unique by adding the frosting flowers around it.

I make the clothespin doll wedding cake figurines. If you want something that is one of a kind and really cute then these would be perfect. You can use them as Christmas tree ornaments year after year to remind you of your wedding day. These also make cute favors especially for kids.

Vintage wedding cake toppers are always nice but not as easy to find anymore. I used to see them quite a bit at the local thrift stores back in the 80's. Try Ebay or scan the thrift shops on a regular basis.

The dancing frog couple are very unique, I found these at a consignment shop for $5.00, what a bargain! I love these little frogs. I use it as a flower holder and as a decoration in the house. But something like these can be found if you are willing to search second hand shops.

Miniature dolls like the Flamenco dancers above would make awesome toppers too. It all depends on your theme and the size and style of your cake. Again a thrift store find.

Fresh flowers are a nice alternative, unless you want a keepsake.

You can get a custom Monogrammed topper from Toppers With Glitz
Sari Watkins is the owner of Toppers With Glitz. A real person making gorgeous custom toppers that you will cherish forever. What could be better than that?

I hope this helps. Good luck with your search. Let me know what you finally decide on. I would love to see a picture of the cake and maybe a little story about it and your wedding day. You can do that here on the wedding cake stories page if you like.





Return to Wedding Cake Questions.
This article was printed from Wedding-Cakes-For-You.com