Vintage Wedding Cake Story and Tips
by Viviana
(Coral Springs, FL, USA)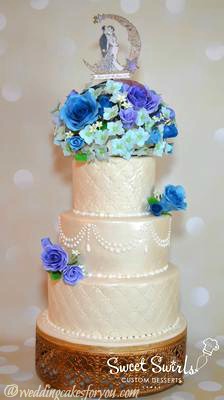 I am a home baker and have learned to make cakes by trial and error. I have taken classes for the past two years and spend a lot of time on the internet reading tips on line.


A Vintage Wedding Cake
This vintage wedding cake is one I made for a Wedding in November. I started by making cakes for family and friends. I have always loved baking and decorating and decided to start a side business.
Whats The Story?
This particular cake does have an interesting story behind it. I had quoted the bride a price, which she agreed to, and in good faith I submitted some sketches with 3 different design options.
A sketch was selected but a couple of weeks later I received a text from the bride telling me that she decided not to have the cake made by me because she was trying to be sensitive to the cost of the wedding. Her groom was paying for the entire wedding.
She told me she decided to go with a local supermarket instead. I told her I respected her decision however was very disappointed and gave her some tips on things to look for and consider with her Publix cake, especially because they make sponge cakes.
I had already been to the brides house to do a cake tasting. She was VERY particular about the look and the taste, which is why I gave her these tips. It seems my tips worked, as a week later she told me that she had cancelled her supermarket order and got a refund. She re-engaged my services to make her cake.
The Cake Toppers
I started to work on the flowers as I knew there would be a lot of work with this particular flower topper. She also had a purchased topper she had made with a vintage flair. Although hard to read in the picture, underneath the bride and groom it had the Juror numbers they were assigned, as they had met during Jury Duty.
You just never know where you will meet the love of your life.
Creating A Template
Each cake has its own challenges. I loved
the details on each cake layer. TIP: Try to be creative and minimize your cost with molds. I made my own template for the second layer out of cardstock. I went on line and typed wedding cake templates under images and found a picture which I printed and projected with my Copy Kake projector on card stock to make my own template.
As I placed the cardstock on the cake, I used a scribing tool or pin to puncture the fondant to create a pin template I could pipe over. The design idea worked and I didn't have to spend money purchasing a template. I do love templates, but if I can save money making my own, I do.
The Big Day
The day of the wedding always makes me nervous as you need to ensure you finish everything timely and get to the venue without hiccups in the transportation and set up the wedding cake. TIP: Make sure you take a repair kit with you! I take my own little bucket with my tools, extra royal icing for any immediate repairs and extra flowers. I am so glad I did as I did have to make a repair on site.
Two Wedding Cakes?
Going back to the story with the bride, as I was setting up the cake at the venue, the bride and bridal party were in the reception area waiting as the actual wedding was on a different floor of the building. As I was finishing up, in walks a delivery guy with a big box. He walks up to me and tells me he has a wedding cake to deliver.
He was from the local supermarket where the bride had ordered. They spoke with him and he left. The bride told me that was crazy as she had cancelled the order and received her refund. I felt bad for the local market but obviously had some issues they had to address.
They Loved It
Long story result, the bride and party loved my cake. I shared some pictures including one at the venue. I hope you like my tips and thanks for reading my story.
Viviana
Sweet Swirls Custom Desserts