Custom Search

Wedding Cakes Pictures And Cake Decorating Ideas

Welcome to wedding cakes pictures and stories from around the world

One of the most unique collections of ideas and creativity from cake decorators all around the world.

You can share your splendid wedding cake photos and join this ever growing online community of helpful craftspeople like yourself. All of the photos and stories on this page are from visitors.

To share your wedding cakes pictures and stories go here


Most Recent Wedding Cakes-Pictures and Shares

A Fabulous Fondant Pleated Design by Lynnie Vanille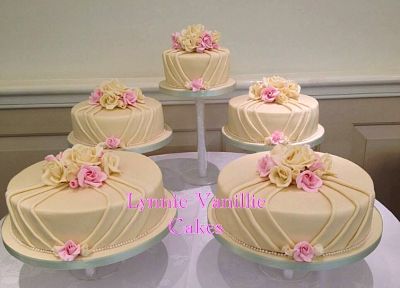 Lynnie Vanille Cakes made this 5 tier cake this past summer and displayed it on individual stands in varying heights and fondant pleats. Stunning! Find her on Facebook.

---

Luscious Looking Creation
Melisa Brown shared her magnificent wedding cake picture with a sweet testimonial. Thank you Melisa Brown.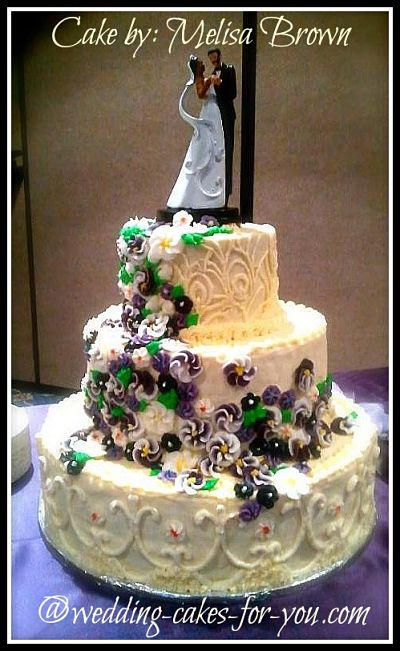 "This is the carrot cake I made for last weekend's wedding. I had a red velvet groom's cake and a simple white cake to go with it. I used all of your recipes and everyone was bowled-over by the flavor.
Thanks again, Lorelie. You're the best cake coach."
~Melisa Brown~ To read the story behind the cake go here

---

More Wedding Cakes Pictures and Stories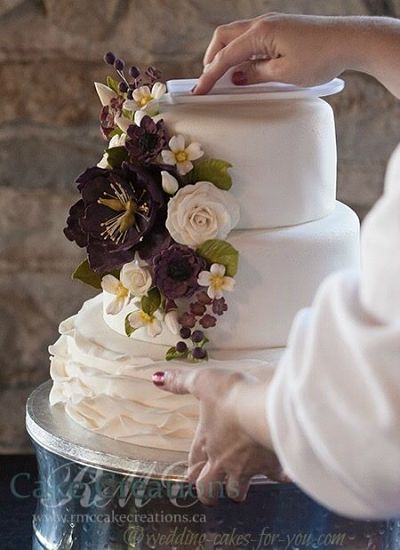 PHOTO ABOVE: RMC does it again. Rachel's cakes just keep getting better and better! Find her on Facebook.

The amazing Butterfly effect from Becca's Edible Art.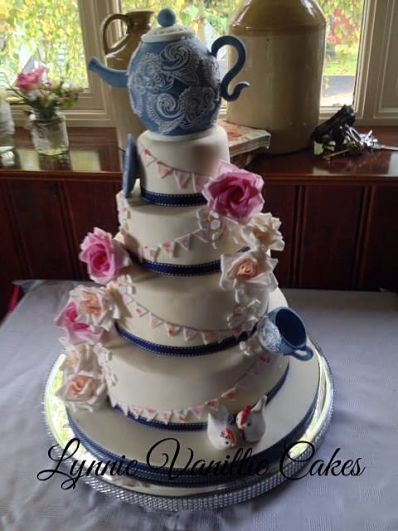 Look for the little bride and groom chickens somewhere onto the cake by Lynnie Vanille Cakes

This is a unique design by Madhia You can find her business page on Facebook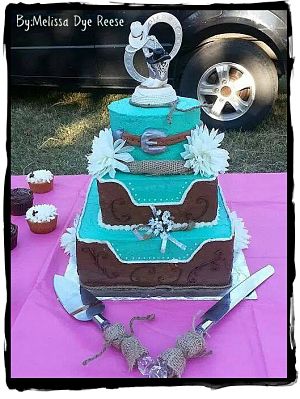 The Western Theme by Stinking Sweet Cakes is adorable


Wedding Cakes Pictures-Share Them Here or on Facebook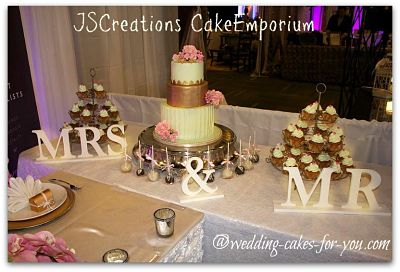 ABOVE Left: Jacqui shares many of her wonderful designs with us and this one is so elegant and a little whimsical. The pink, gold and white compliment each other perfectly. Visit JS Creations website to see a fabulous slideshow of her work up close and personal.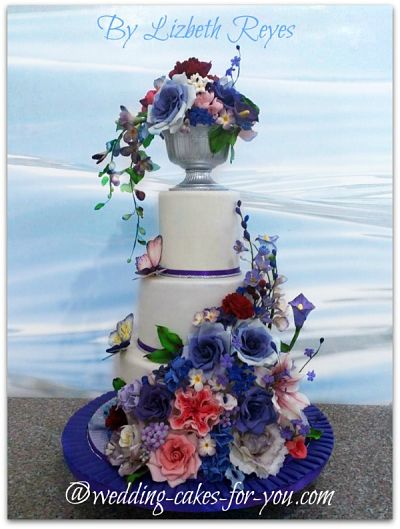 Lizbeth Reyes does amazing work. I will update the page as soon as I know where to send you for more peeks at  her stylish cakes. Thanks for visiting and checking out the latest designs shared by visitors here and on Facebook.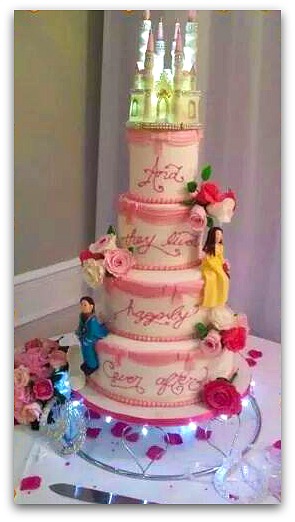 The front and backside of a unique wedding cake design by My Darlon Cakes

Look closely, there is a lot of detail. The fondant/gumpaste figurines (bride and groom), flowers made of icing? gumpaste.... silk I am not sure. The castle cake topper and the most unusual aspect, the spider web design on the back. 
Find them on facebook.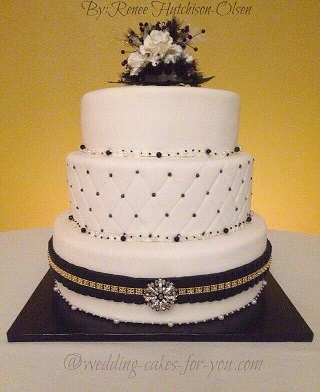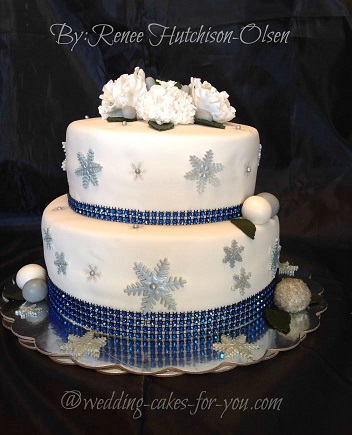 Above a FIRST Wedding Cake, By Sweet Obsession. You can see more photos of this cake at her facebook page.

The snowflake design would make a great little Christmas dessert for a wedding or party. LOVE the blue jewels. To see more Christmas design ideas go here.

More Creative Wedding Cakes & Pictures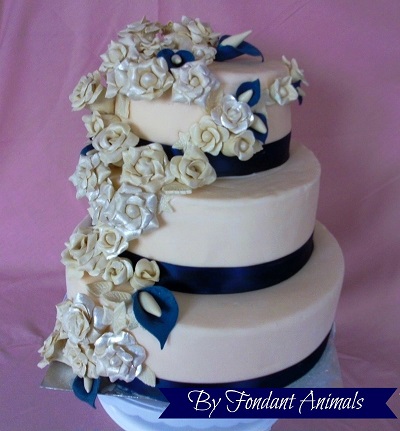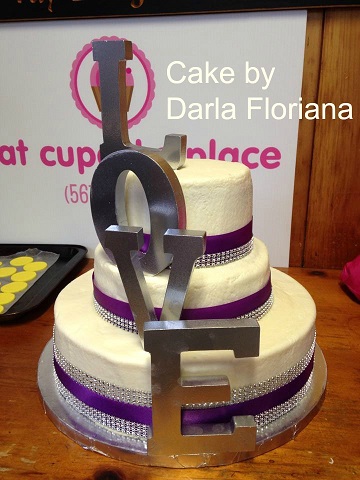 sMaxine's Fabulouos Cakes shared her beautiful classic rose draped creation at the share event on FB.
Darla Floriana shared her LOVE cake with bling at the Wedding Cake Wednesday share on FB.

Ombre
Aqua Ombre tiered cake by Khandra. Vibrant colors are definitely in right now. This is a gorgeous Turquoise blue buttercream. Khandra has shared many cake at Wedding Cakes For You.


Whimsical Wedding Cakes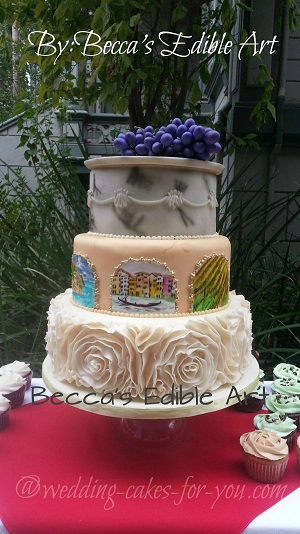 To add your wedding cake stories go here.

Topsy Turvy, Dr Seuss, Alice in Wonderland or Whimsical as they are sometimes called are very much in vogue. Use your imagination, have fun, that is what these cakes are all about.

You can share your wedding cakes pictures and stories, tell us how you made them, reveal your tips and secrets. At Wedding Cakes For You "Every Cake Has A Story" Share yours.

Becca's Edible Art made this stunning themed wedding cake design. Find her on Facebook.

Wedding Cakes Pictures with Stories

NOTE : Some of the submissions below are contest entries from past competitions here on this website and some were simply shared. All of them have stories, recipes and tips. Go here to see the stories.
The pictures below have tall tales to go with them. Enjoy. Find a common thread with these cake decorators from around the world. :-) Click on the ones you like! :-)

Suitcases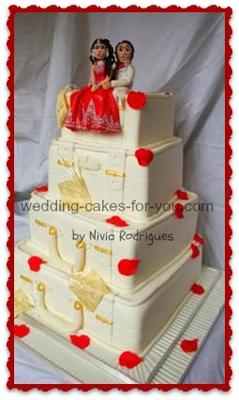 Woodland Fairy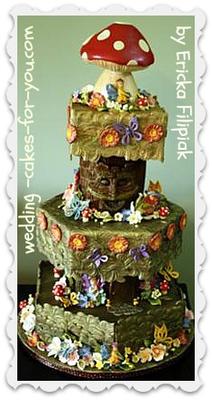 Blue Polka Dots

Mad Hatter

Zebra Design

Polka Dots

Victorian Lady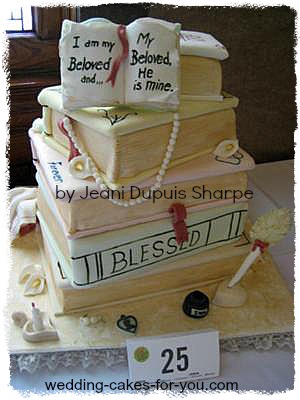 Funky Cake

Fun and Funky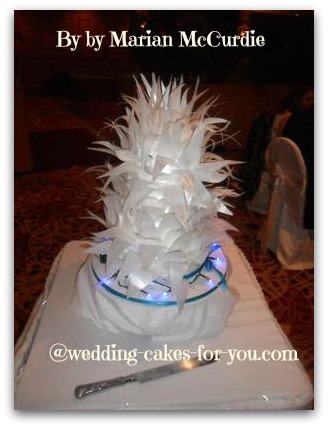 Rolled Fondant Wedding Cakes
Check out some of the clever rolled fondant cakes from visitors to this site. Included in this collection are fondant flowers, butterflies, white chocolate fondant cakes, pleated designs, fondant draping and more, all shared here by first timers to competition winners and all skill levels in between.
Butterflies
Competition Cake

Monogram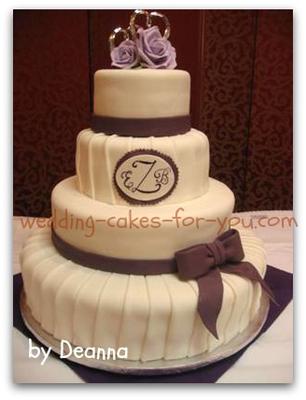 Golden Mehendi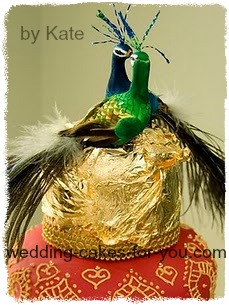 Black and White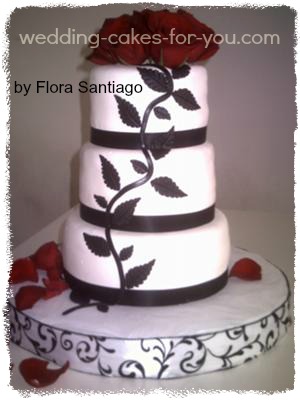 Black and White

Renaissance Cake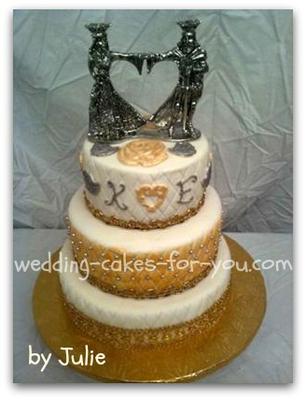 Grecian Cake

Sugar Roses

Pink and Green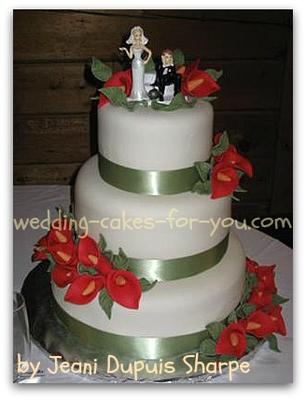 Diamond Trim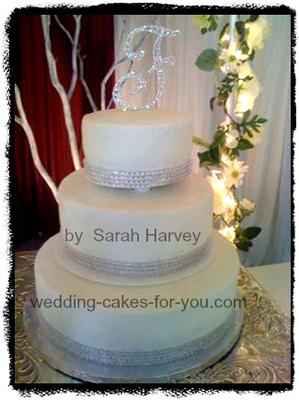 Fresh Flowers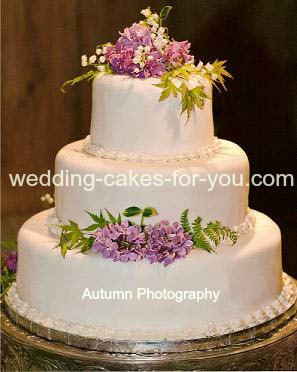 Red and White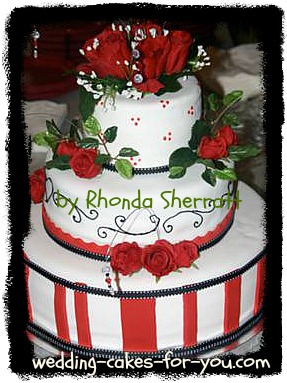 Strawberries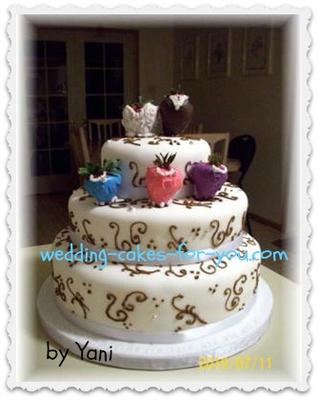 Gerbera Daisies

Dummy Cake

Pillow Design

Spring Design

---

Square  Wedding Cakes
Square designs are unexpected and quite refreshing for a unique change of pace. Here are some examples from readers of Wedding Cakes For You. Click on the ones that you would like to learn more about.

 Pink Ribbon

Fresh Daisies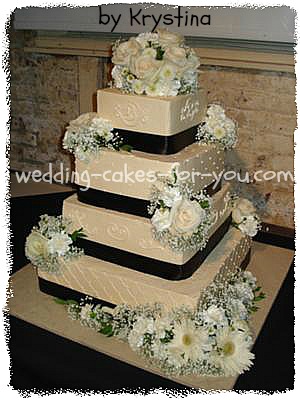 Quilted Fondant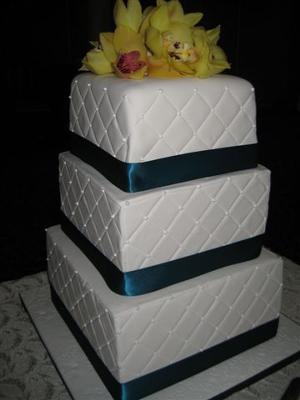 Square Tiers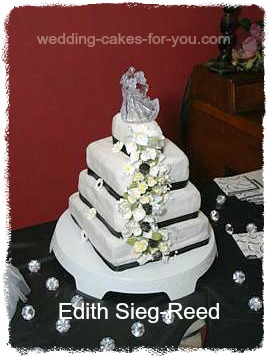 Stenciled Design

Gumpaste Tulips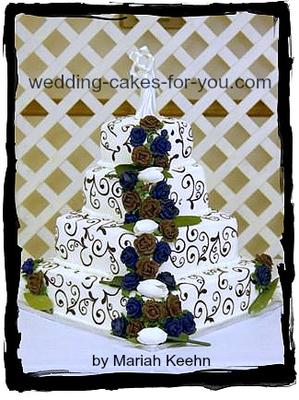 Small Wedding Cakes
Unpretentious pretty little cakes from cake decorators who wish to share their love for baking and decorating. You can go to each page by clicking on the photos to read the stories, recipes, and how these cakes are made.

Pink Wedding Cake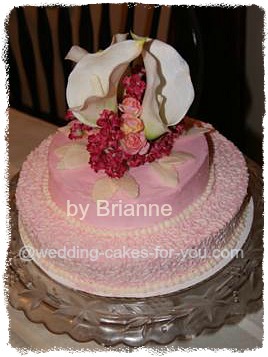 Gumpaste Flowers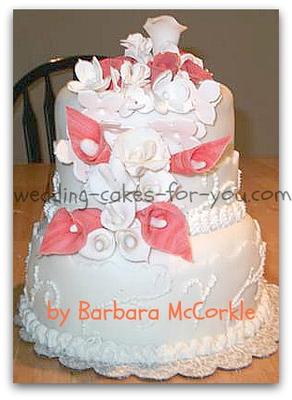 Vegan Wedding Cake

Small Black & White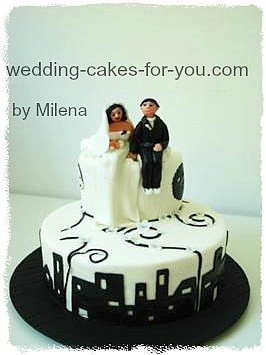 Beach Theme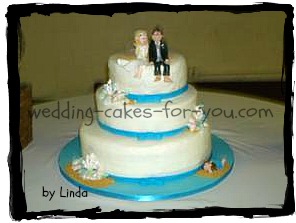 Cheap Wedding Cake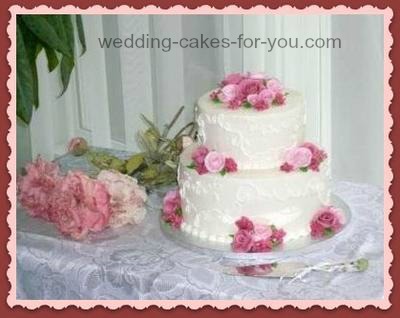 Buttercream and Wedding Cakes With Fresh Flowers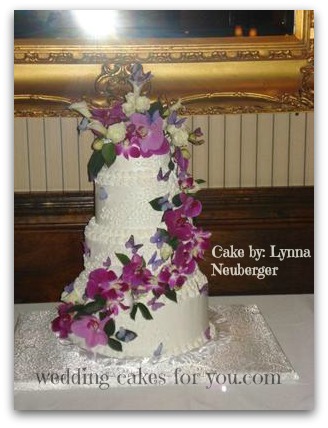 Traditional Wedding Cakes