What equipment do I REALLY need for a new bakery???
by Caryn Nel
(Klerksdorp, North West, South Africa)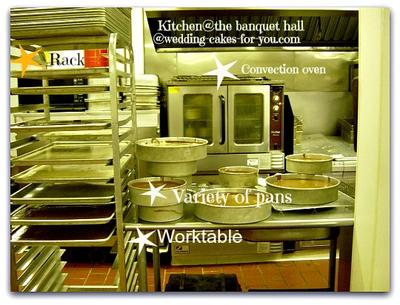 Convection Oven, Racks and aTable with Cake Pans
Hi there


I'm in the process of opening up a Specialty Cake shop in our City Mall, but I have always baked with the basic household equipment and am not familiar at all with what I might need.
I know I want to do muffins, cupcakes, brownies, cookies, sweet gift boxes, cake pops, ready-made specialty cakes and obviously pre-order bigger Celebration cakes. I also know the location has A LOT of foot traffic everyday, so I should hopefully be selling ready-made items really fast.
But...I'm clueless!!! I've been doing so much research on all the ovens available and getting quotes and suggestions on all the things I might need, but I still don't know what I really need...or what will be best..
Oven? Convection / Deck / other?
Mixer? 5l / 10l / 20l / other?
Everything else?
What product lines would you suggest to be made for ready-made lines?
I also don't want to miss out on maybe catching lunch customers for a bite to eat, but I'm not huge on savory anything...?Any ideas?
I just don't want to miss out on any business that could bring in quick good cash...
ohhhhh...sighhh...I so badly want this to be a success, even if it doesn't bring in huge money, just enough to see me through and I'll be more than happy.
Anything??? Please Help!
Hi Caryn, Thanks for your in depth question LOL I can partially answer and then hopefully others can chime in to help.

There is a lot of small stuff that you will need, I will cover the larger items here.

Commercial Mixers

Used equipment is available and is the way I would probably go to start with. Hobart and Berkel are trusted for mixer brands. I own a Berkel and have used the Hobart brand many times at various bakery's. These machines last a LONG time. They will need regular maintenance but they do have a long life span.

Begin with at least a 20 quart as in the photo above. You can always get a larger one down the road. Also get a small tabletop mixer such as a Kitchen Aid for small tasks and a food processor for chopping and slicing.

A work table, or two (metal ones are preferable)

Commercial Ovens

Convection ovens like the one pictured here are what I have used and love. You can bake a lot of cakes at once in there and fast. You can also bake every other type of pastry, cookies, and breads etc that you can think of.

Walk In Refrigerator

A rack is REALLY useful. One with wheels that you can roll in and out of a walk in refrigerator.

Besides a walk in refrigerator you will probably want and need another smaller side by side one like the photo above to either place finished wedding cakes in or to store other things for convenience like milk and cream and eggs etc.

Most important is to find out what the health and building codes are in this facility. You will have to go by the rules.

Dishwashing System

Obviously you need a good dishwashing system as well. I have not actually had to purchase one of these, so not sure which brand is best.

Cake Pans and Tins

Pans of all sorts are needed. Start with a few and add to the collection as you go. You will find out along the way what you need to order. For wedding cake supplies get 16 14 10 6 inches to start with and some heavy duty muffin tins, and sheet pans, (which are good for cookies and for sheet cakes)

As far as savory items for sale go, my thought is to go with pastry based items with meat fillings. Little mini chicken or beef pies. Offer up a vegetarian one too. There is a new Brazilian bakery/lunch/breakfast place in our mall that does meat pockets and such that are pastry based, easy to handle and a quick meal on the go.

Good luck to you. I hope it all works out. I will ask my Facebook friends to come and take a look at your post, to see if they can add some advice for you. There are many smaller items that you will need to consider.

Start with the basics and add as you go is my best advice. Your customers will let you know what they want.


Display Case

Of course you will need a display case or two as well. A cold one for things that need to stay cold and regular one for pies and things like that.

I hope this helps you out a little. It's going to be a challenge and a great learning experience. I wish you the best and great success.