Winter Cake Tutorial

Welcome to Cakes with Lorelie's winter cake tutorial page.  I created a step by step guide for you to follow so that if you are a beginner decorator you too can create this beautiful winter wonderland design. 
The Video 
Even though this cake looks complex it is not as difficult as it appears. The cake decorating techniques I used for this are fairly simple. You will learn how to:
make a white chocolate collar to wrap the top tier

make dark chocolate branches

pipe an interesting texture on the bottom tier using buttercream

pipe buttercream pine cones onto a straw and place them into your cake

frost a cake smoothly with buttercream

photo tips to create better photographs of your creations

and a spice cake recipe to go with your themed winter cake tutorial
The tutorial starts with a recipe for a delicious spice cake, perfect for the winter time and moves forward with a browned butter frosting for filling the spiced layers. The cake decorating comes next and begins with frosting the top tier smoothly with blue buttercream. Piping the bottom tier to give it a textured look is next followed by creating the white and dark chocolate lace cake collar (I show both) I show you how to place the lace and what to do with the pieces if they break. The final touches are piping tiny pine cones onto straws and placing them into the cake for a realistic look, piping chocolate branches and finally making little blue flowers, leaves and pine needles to fill in the gaps.
Spice Cake Recipe
Begin by making this awesome spice cake with brown butter frosting to fill the layers. You will also need a batch of buttercream of your choice to finish and decorate. 
Winter Wedding Cake Details


The white chocolate lace collar overlay on the delphinium blue buttercream frosting is outstanding. This is what really makes this cake special. Experimenting with the white chocolate lace can be a lot of fun. Make extra so you can play around with it. Break it into smaller pieces to use as accents on around the pine cones like I did. 
Winter Cake Tutorial Part 2
Prefer a dark chocolate look over the white? I chose to create both and you can see parts of each cake being made in the winter cake tutorial video.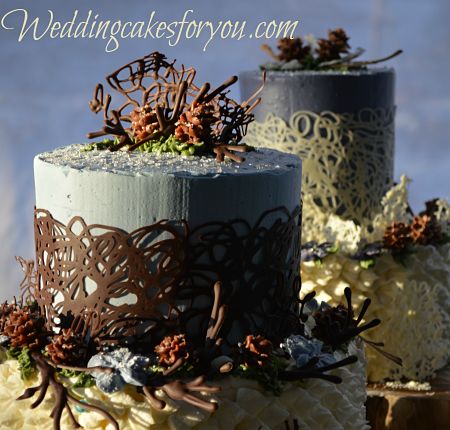 With the exception of the dark and white chocolate color, both cakes are almost identical. The white chocolate cake has an eight inch two layer bottom and a four  inch round top. The dark chocolate cake has a larger bottom of nine inches and three layers high with the top tier being the typical six inch size. 

Inspiration
Photographer: Josh Adam Photography
Gown: Ever After Bridal 
Florals: Earthy Elegance Florals

A winter wonderland photo style shoot I participated in inspired me to create this design. Here is the link to that page so you can see some of the stunning photos at Strictly Weddings and here on Wedding Chicks Blog
I was moved to try again to create something that would fit with such a beautiful woodland setting. Fondant is replaced by buttercream for a softer look.  Pine cones, white lace and little blue flowers take the place of the whimsical gumpaste flowers . 
This article was printed from Wedding-Cakes-For-You.com