Yule Log Cake Recipe
Looking for the best yule log cake recipe? It's right here. Buche De Noel is incredibly light and delicious.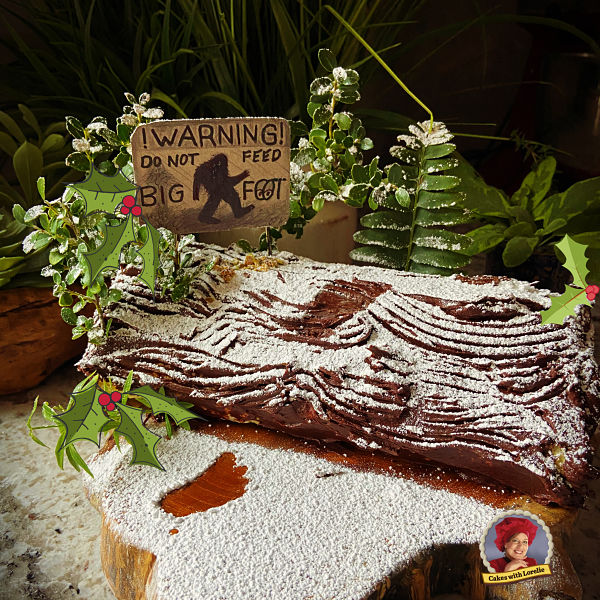 The Big Foot Yule log is the latest design 2020. It's made with a luscious Lemon jellyroll recipe, filled with whipped cream and Blackberry jam. The recipe is below the first one.
Yule Log Cake Recipe and Whimsical Design
This video shows an all buttercream design. In the presentation you will see how to make a chocolate sponge cake.  The filling, frosting  and decorating is in the video too.  
Buche De Noel
Here are the written instructions on how to make this elegant dessert. The yule log cake recipe below is slightly different than the video.  It has the addition of 2 tablespoons of cornstarch which I recommend. 

You will need...
One 15 x 10 or 11 inch pan-1 inch deep or close (I use a cookie sheet)
Waxed or parchment paper I use waxed and I also grease the pan first then lay the waxed paper on. Now grease the waxed paper and sift either cocoa or flour over that. You really need to do this to make sure that your cake comes out easily. 
4 large eggs separated at room temperature (or put them in a bowl of warm water to warm up)
5 tablespoons sifted cake flour
2 tablespoons sifted cornstarch
1/3 cup sifted unsweetened cocoa
1/8 teaspoon cinnamon
1/4 teaspoon salt
1/2 teaspoon baking powder
1/4 teaspoon baking soda
3/4 cup sugar 

1 teaspoon vanilla
Method
Prepare your pans first and then take a tea towel that is a little larger than your cake pan and place it on the counter. Sift cocoa over the towel.  Blend or sift the dry ingredients together and set aside. Beat egg yolks with 1/4 cup of the sugar until pale and thick and add the vanilla. Whisk the whites with the remaining 1/2 cup sugar. Fold  1/3 of the meringue (whites) into the yolk mixture then sift or sprinkle 1/3 of the dry over it and fold. Continue to do that until all the ingredients are folded together. This part does take some patience as the dry ingredients resist being incorporated. It will come together.  
Spread onto a baking sheet which has been lined with parchment paper. Bake for 15 minutes at 350 ( I used 340 ) then transfer to a wire rack to cool. When you take your cake out of the oven immediately flip the pan over onto the towel to release the cake. Immediately remove the waxed paper  (carefully) and then if necessary trim the outer edges of the cake. 
The cake may not look pretty at this point, but it will. Roll the cake in the towel and set aside to cool. 
Another Yule Log Cake Recipe 
Do you prefer something lighter? How about a Lemon jelly roll with whipped cream and Blackberry jam? You'll see how to create a Big Foot theme and a special surprise Big Foot sighting :-) 
Filling and frosting ideas for the yule log cake recipe 
Sweetened whipped cream, plain or with fruit or flavored with liqueur.
Creme Patisserie (pastry cream)
Mousse (my favorite)
Chocolate ganache
Chocolate buttercream 
Jam, preserves or jelly
Traditional Decorations

Meringue Mushrooms 
You can decorate with meringue mushrooms as in this video and sprinkle them with a little bit of cocoa right before serving. Sift powdered sugar over the cake before serving. This gives the illusion of a fresh snowfall.
Meringue
2 egg whites at room temperature
1/8 teaspoon of cream of tartar
1/2 cup superfine sugar
3/4 teaspoons cornstarch
Beat egg whites and cream of tartar in a clean bowl. Beat on low until the whites are frothy. Turn mixer to medium and add the superfine sugar slowly. Continue beating until the whites are stiff and glossy. Sprinkle the cornstarch evenly over the top and beat for 30 seconds.

Fill a pastry bag that has a large round tip with meringue and pipe out round shapes for the caps and tubes for the stems, onto a pan lined with parchment paper. Bake for 1-2 hours in a 225 degree oven.You want to dry them out not brown them. Once cooled you can scoop out a tiny divet under each cap fit the stems onto a divet and attach with a tiny bit of uncooked meringue.

Store any left over mushrooms in an air tight container.

You can make little fondant leaves and berries like I did or use real holly around your Buche de Noel.


All About Buche De Noel
This article was printed from Wedding-Cakes-For-You.com