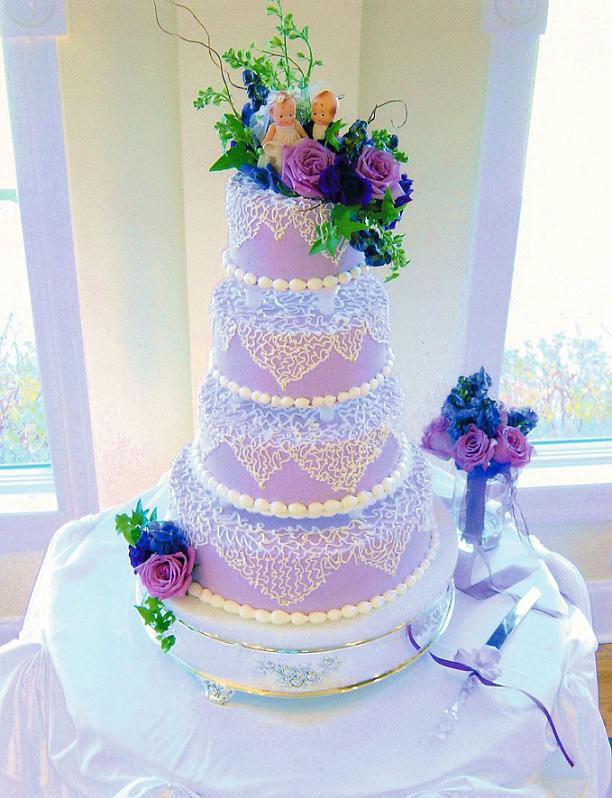 The moment after biting into your first piece of cake with Lavender frosting you will notice a lovely bouquet developing. 
Reminiscent of a fine wine, the essence is subtle at first, and then it's a Wow!!
Give it a try. This makes a lovely and unique wedding cake frosting.
The infusion for this lavender frosting recipe is easy to make. Just add 1 Tbsp. of fresh Lavender florets into 2 tablespoons of milk or heavy cream. I recommend that you let it sit for at least 6-8 hours, preferably overnight for a more intense flavor and aroma.
Strain the flowers out of the milk using either cheesecloth or a metal strainer and use it to flavor your frosting. The alternative is to use pure Lavender extract. Both of these can be found online or at Whole Foods grocery stores.
The four tiered beauty with lavender colored buttercream at he top of this page has a cornelli lace design. The flowers are fresh and the wedding cake topper unique. Each tier was propped up slightly above the cake beneath it with pillars. A silver plateau adds a touch of elegance.

Use this ethereal icing on all types of cakes including cupcakes. A lemon cake would be especially suited to this. You can leave your icing plain without coloring or use a few drops each of red and blue to make a purple color. Color paste also works well and you can find those at a cake decorating supply stores.
Lavender is an herb and it has many uses both medicinally and for pleasure. Lavender can help to promote sleep, relieve anxiety, soothe a sunburn and so much more. I found this wonderful website while researching my favorite herbs and I would love to share it here with you. Check out The Herb Guide.