Ocean Cake
by Cosette
(Rainier, WA)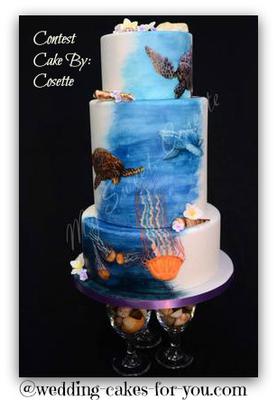 By the time I took on the challenge of this ocean cake, my husband and I had completed a few free-hand painted ones already. Every time he paints he is looking to improve from his last project and come up with some new idea.


My husband was scheduled to deploy with his Army unit, when I was asked to submit cakes for a magazine spread. I could have used my old designs, but my hubs thought "why not do one more before I go?"
He had been considering doing an ocean themed cake for a while, but with this opportunity coming at the same time as the anniversary of his father's passing on Sept. 11 and this being his last chance before his deployment, it seemed a perfect time to do it.
MY HUSBANDS HERO
His dad spent 36 years serving this country in the U.S. Navy and taken from us tragically two years after his retirement. He loved the ocean and he lived life fully. He was basically my husband's hero. His father was an avid diver, which explains the theme.
ELEMENTS OF THE SEA
We are both from the Monterey, California area, so subject inspiration came a lot from the Monterey Bay Aquarium's amazing sea-life exhibits. My husband also lived in Hawaii as a child and spent a lot of time with his father in the ocean there. There are elements of Hawaii in the cake, from the humpback whale to the seashells.
We spent our honeymoon in Hawaii and brought home a collection of shells, which we used to fill the wine-glass cake stand and to create fondant molds. The sea turtles were drawn from my husband's childhood memory of snorkeling with turtles on the big island, also with his father.
From invitation to inspiration, conception and completion, this design has bits of memories my husband and I have of us and his amazing father.
The ocean cake still didn't receive as much attention as my
Japanese/Koi design,
but for my husband, this was a big deal and a cake to be proud of. Hopefully, his father thinks so too.