Russian Piping Tips

Russian piping tips are one of the newest cake trends. Everyone can magically decorate a cupcake or cake with these easy to use cake decorating tips. 
See How to Use Russian Piping Tips

In this video I show you each numbered tip, what type of flower each one makes as well as instructions for preparing your pastry bags and striping a bag to create more interest. NOTE The set in the video is no longer available. 
These cool piping tips are great for the novice cake decorator, but they can also be helpful for a professional with years of baking and decorating experience.  These can be used in various situations. For example as a filler with classic buttercream flowers, they are stunning. Especially the Tulip. It's my official favorite.
Pictures of Cakes and Cupcakes Decorated with Russian Piping Tips
The two cupcakes in this photo below are decorated with the #32 and #33 Rose Russian piping tips. Both of these come with your starter set. 
Buttercream Flowers Piped with Russian Piping Tips
For this gorgeous mother's day cake I piped classic buttercream Dogwood, Roses, Hydrangea /Lilac and then filled in with Tulips using tip #37 and greenery. I used my favorite Italian meringue buttercream recipe for this luscious floral basket.

More About Your Cake Decorating Tips
All of this information and more is in the video
The set comes with seven large flower tips and a small leaf tip. It also comes with disposable piping bags and a coupler set for interchanging the tips. You'll need a pair of scissors. 
Put the coupler inside then trim off just enough of the plastic bag so the coupler fits snugly. Put your tip onto the coupler and screw it tight.
Squeeze out the buttercream and release the pressure as you pull up and away from the surface. You can always scrape off so don't worry too much if they don't come out perfect.


One of my Favorites is the Tulip
The Tulip looks especially nice when you fill the center with a contrasting color to make the stamens stand out.Play around with various color combinations. I like the white with pink. Here are some Tulips that I made previously with the white and pink combined.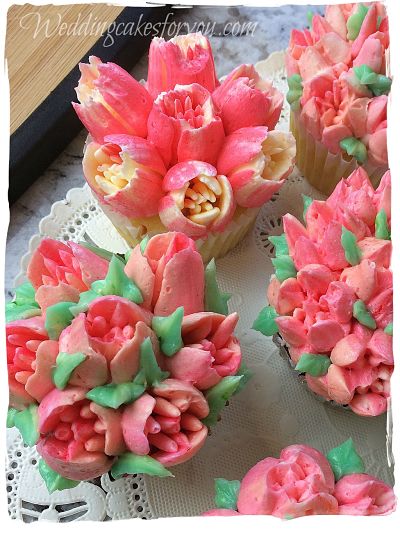 Pretty in Pink
Parchment Cake Decorating Bags
Filling in with greenery brings the flowers more to life. You can make a parchment bag for the leaves Here is how you make them.

My Squeeze and Release Technique

This technique is shown in the first video at the top of the page

Squeeze until the icing touches the cake and then continue to squeeze as you pull up and away and then completely release the pressure.


The colors you choose will also make a difference. For example with the Roses below I used  soft colors which helps to make it look more delicate. You can also pipe a second layer of flowers to create height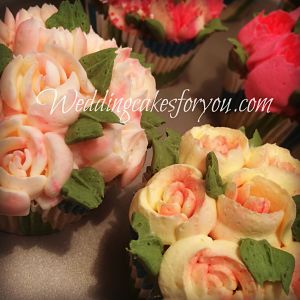 Soft Colored Roses

Once you get the hang of  the Russian piping tips they do make it easier for the novice decorator to create beautiful cupcakes and they are also fun for the professional to combine with classic flowers on a cake. 

Have fun experimenting with your tips. 

Happy Baking and Cake Decorating.
The Buttercream Recipes

Italian Meringue Buttercream
This article was printed from Wedding-Cakes-For-You.com