What type of icing would you use to cover the cake?
by Jenny Troutman
(Somerset, PA, USA)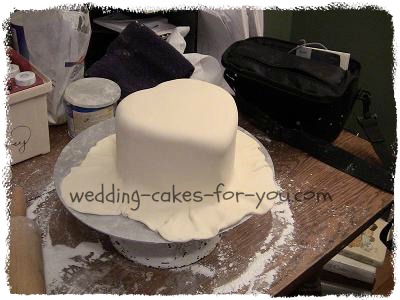 Covering a cake in fondant
Hi, I'm back again. I have a question about icing. I'm not really familiar with fondant and I don't refuse to use it, but I'm not comfortable with it.


I'm trying to find an icing that would look amazing on the outside of the cake and it can cover it completely without a hassle. I experimented tonight with buttercream icing and it's good as a filling but on the outside it doesn't look as good.
Would royal icing be ok to put on the outside?? I would like to use royal icing for my flowers and other decorations. I'm just stumped...I need help.
Welcome back Jenny,
That's a tough one, I wish there was such a thing as a hassle free cake. It is true that it is not easy to frost a cake with buttercream or any other icing and have it come out perfect or amazing.

Fondant takes practice too, but once mastered is the best way to make the cake surface look smooth. I wouldn't recommend royal icing as it hardens. I have never frosted a cake with it. I do have books that show the royal icing being used over a marzipan coating though. On my book review page you will find two books that show you how to use royal icing over marzipan to make amazingly smooth cakes.

The Essential Guide to Cake Decorating (Cookery)

Cake Decorating: A Step-By-Step Guide to Making Traditional & Fantasy Cakes

Wilton's Cake decorating frosting may work better for you it is made with shortening. It is a little easier to work with and smooth out.

Have you tried using a hot spatula to smooth out the buttercream? Dip the spatula into a glass of hot water, wipe it dry and place it onto the sides as you turn the cake. Keep in mind that you will be adding borders and decoration so some imperfections can be hidden like magic. LOL!

I hope this helps. I wish I had a miracle answer for you.


Comments


What type of icing is used for covering the cake and decoratin the cake.?
by: fitriah

hi, i just want to ask, what type of icing is good to be used to cover the cake and what type of icing is used to decorate the cakes ? as I am quite confused on which icing is supposed to use for decorating cakes and to cover the cake with, Can help me? thanks.

Hi Fitriah, Any of the buttercream icing recipes can be used to frost a cake and can be used to decorate a cake as well. In addition to the buttercream frostings you can also use royal icing for decorating and fondant to cover and decorate a cake.





Return to Cake Icing Questions.
How much frosting, in pounds and cups, do I need for a 3 tiered wedding cake?
by Kelly Rhodes
(Missouri City, TX)
I will be making a 3 tiered wedding cake. The bottom 2 tiers will be fake, so I won't need frosting in between layers. The tier sizes are 12", 10", and 8" square. How much frosting, in pounds and cups, will I need to frost and decorate this cake?

Hi Kelly, So sorry it took me a few days to get back to you. I had a couple of wedding cakes this past weekend. Go figure. LOL Thank you for your patience.

I just added a Wedding Cake Icing Chart to the site. That should help you out with amounts. In pounds I don't know. I do know that for a three tiered wedding cake 14 inch, 10 inch and a 6 inch with decoration is 4 lbs of unsalted butter. I use the recipe here called wedding cake frosting. It is an Italian Meringue.

Hope this helps.


Return to Cake Icing Questions.
Which Icing Recipes To Use
by Dominique
(UK)
Hi Lorelie,
Im new to cake decorating as a hobby and am making a cake this weekend for my daughter's birthday and i've just got a couple questions. Firstly, your (3)buttercream recipes, im unsure of which one to use.
I'm trying to do a 9" by 13" sheet cake, and plan to decorate the edges with piping borders (not sure if thats the correct term? like using the shell/star nozzle?), which icing is best for that, consistency wise? the wedding cake one, easy buttercream, or cake decorating? And Do you normally use the same icing for the middle of the cake, the coating and the piping? Im soo confused! lol.

Also, Ive had in the past a Marshmallow icing on a cake and loved it. Would it be suitable to use a marshmallow buttercream frosting? and if so, have you got any recipes or tips for me??
I thank you soo much for your website! I've been so addicted to it since i've stumbled upon it,and your youtube channel also :) Please please please help me out! (before friday if you can?? as ive got to make the cake byu then ! I am going to include a pic of the kind of cake im trying to make to give you a visual.

Sincerely,
Dominique

Hi Dominique, So sorry I didnt get to this post sooner. I hope its not too late to help you out.

You can use the Italian Meringue, also called wedding cake frosting or the easy buttercream for all of it. The Italian meringue is my favorite taste wise but it takes a little more effort to make it. The Easy buttercream is slightly firmer in texture so is good for piping. But either one is fine for filling, frosting and piping.

I have a marshmallow fondant recipe but not a plain marshmallow frosting on this website. But I don't think a fondant is what you are looking for.

Good luck with your cake. I'm sure it will be beautiful as in the picture. Can you send us a photo of it?
PS Thanks for the awesome compliment about my site :-)


Return to Cake Icing Questions.
Fairy castle icing
by Karen
(New Zealand)
Hi, I have a silicon moud that makes a 3D fairy castle, where the walls are quite ridged and detailed. What is the best way to ice this so that the icing sticks, doesn't hide all the ridges/details, and doesn't run to the bottom of the cake? Your help would be most appreciated!

Hi Karen. I would use a buttercream icing recipe. I have a couple of good ones on this site. One is an Italian meringue that is made with a hot syrup and beaten egg whites. I call it Wedding Cake Frosting. The other is an easy buttercream frosting that is made with powdered sugar and vanilla.

Both would work. Get your cakes cold then crumb coat the cake, let it settle a bit before doing the final coat. Good luck. It will take some patience to get it nice and smooth. You can use a hot knife to help with smoothing it. Hope that helps
Return to Cake Icing Questions.
This article was printed from Wedding-Cakes-For-You.com