Finding Nemo Cake Inspired By Squirt
by Stephanie
(PA)
I'm making a baby shower cake. Her theme is sea turtles. I like Squirt from Finding Nemo. That's my inspiration. I am having a hard time figuring out how to make him out of fondant for a sheet cake. So if you have any ideas for me I would appreciate it?


Hi Stephanie,
The photo above is one I found on Cake Central. (The link to the photo is no longer working to the original photo, but I did credit Ldtx.) She used marshmallow fondant.

I would make two sheets and use one to mold the shapes of the turtles back and head. The fins, eyes I would make strictly from fondant.

The other option is to make the turtle strictly out of fondant and make him a little smaller perhaps.

I can see the turtle pictured above on top of a sheet. Good luck and let is know how it came out and please submit a photo of Squirt from Finding Nemo, or the turtle character that you decide to make.

Comments

Great idea for a cake!
by: Brianne

Hello! What a great idea! I would use cake for his body and a smaller one or a large cupcake for his head. If you can get your hands on a Wilton sports ball cake you could use that for his body. Just an idea! Good luck in your endeavors!
Return to Your Decorating Questions.
Winnie The Pooh Cake
by Zaynab
(New Zealand)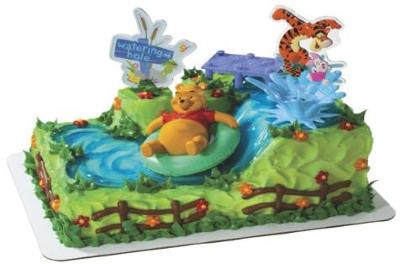 I uploaded the Winnie The Pooh cake above so you can see what I am asking. I would like to do the water, Do you know the recipe for it or the ingredient?

Thank you very much for your quick replies to my questions, I really appreciate it.

I look forward to hearing from you.

Kind regards
Zaynab

Hi Zaynab
That is a cute Winnie the Pooh design.
No problem I always try to respond as quickly as possible to the questions I get and I appreciate your visiting my website as often as you do.

It looks like a light blue buttercream with a darker blue gel swirled into it. You will need clear piping gel and blue paste or liquid food coloring to make the blue gel.

Another way to do it which I think would look even more realistic is to use all piping gel. Use two colors as in the picture and swirl them together.. It will look more like the real thing.

Here is the link to find piping gels and food colorings for decorating if you need to order some. You can get a large container which will last you a while. Clear piping gel.
Candyland ships worldwide. You can to link to them and purchase your cake decorating supplies. Let me know how it turned out ok? would love to see pics...


Return to Your Decorating Questions.
Making Graduation Cake
by SHAWNA MCGUIRE
(CALEDONIA, NY)
HI. I wanted to make an open book grad cake for my sons high school graduation party. I then realized that size cake only feeds 40 people. Then I thought I could make the book on top of a sheet, until I realized a sheet pan won't fit in a standard oven. Can you help me figure out how to make a book that can feed 95-110 people?

Thank you so much.

Hi Shawna, Is your book going to be made from the book pan? or are you custom making the open book. If it is customized you can make it fit onto a 1/2 sheet, then make an extra sheet cake for cutting on the side? Another thought is to make a tiered stacked cake, much like a wedding cake but with a graduation theme.

I will ask my facebook cake decorators for their help on this one, so you should be getting some helpful comments.

Comments
graduation
by: divinecakes.ca
my opinion would be to put 4 1/2 sheet cakes together (stacked 2 on each side join together) fill carve and then cover with fondant/or butter creme.. that should give at least enough servings for 100..
Return to Your Decorating Questions.
Guitar cake on top of sheet cake
I'll be baking two cakes one rectangular sheet cake and the other a guitar cake

So, how should I proceed to put the guitar cake on the rectangular cake, if I use the buttercream to cover the cakes?

Hi, Your guitar cake should be placed on top of a piece of cardboard that is cut to fit. First frost your sheet cake, then stick dowels or plastic straws cut to fit into the sheet cake under where the guitar will be placed. Next add a sprinkle of either coconut or graham cracker crumbs so that the cardboard from the guitar cake will not stick to the buttercream too much.

Place the guitar cake on top and drive a sharpened wooden dowel through the two cakes right down to the base. Now you can frost the top cake and proceed with decorating. Good luck. We would love to see the finished cake. You can share it on the decorating cakes and sharing page if you want. Thanks for visiting!

Return to Your Decorating Questions.
Stage Cake
by Sharon Collum
(Stewart, Ms.)
I am having a Justin Bieber birthday party for my 11 year old. I am wanting to do a stage cake and put the Justin doll on it like in a concert. I an having trouble figuring out how to create the stage. Can you help...

I think I will have to go to my Facebook friends and ask them if they will contribute an idea or two.
I can see gingerbread working. Have you made gingerbread houses before?

Gumpaste could also work for your stage. You can color it,roll it out and cut it into the shape that you need for your stage.

Lets hope you get some comments on this.

Comments
Stage cake
by: Anonymous
I don't know how large your cake will be but I saw one made out of rice crispy treats on one of the cake shows. It's easy to model and shape that way and it was covered in modeling chocolate.
Justin Bieber Stage
by: Anonymous
Hi there, we had the same idea! I'm searching trying to decide how to do the stage as well. We really don't need the expense from a second cake tier but would like other options. What did you end up doing? Would love to see pics!
Return to Your Decorating Questions.
This article was printed from Wedding-Cakes-For-You.com