What are Those Aerosol Cans
Buttercream Rose
by Stacy
(Anchorage)
Question: Hello there, I am a lover of cake decorating, and I am having a hard time making a basic buttercream rose. I believe the cream isn't the right consistency. How thick or thin does the cream have to be to make a nice buttercream rose? Thank You


Answer:
Hi Stacy, This video may help as you can see the consistency and I do talk about butter versus Crisco frosting for use in making the rose.
The temperature has a lot to do with how your rose will turn out and the warmth of your hands affects the outcome as well. I have a few recipes here on this site.
This
butter cream frosting
recipe is the one I use the most.
You will just have to practice and find the right proportions of powdered sugar and butter to find the right combination for you.
Royal icing
is another option, but it is no easier than using the butter cream. The meringue royal icing does harden like candy so that you can make roses ahead and store them for future use.
On that same page you will find the
Crisco or shortening based recipe
at the top. Shortening can withstand higher temperatures so the results are a rose that is crisper and more detailed.
Return to Your Decorating Questions.
Edible Cake Diamonds
by Kim
(Swayzee Indiana)
I am doing a friends' wedding cake in Sept...the picture shows.....diamonds on it?? believe it is sugar crystals.....have ordered some edible sugar crystals in clear......not what I was thinking....where can I find or what do I use to make these????? I want something where small children will not choke on them & they dissolve easily in your mouth.....

I have not made these as of yet so I will direct you to a recipe and tutorial that I found on
Making sugar diamonds.

Thanks for visiting and good luck. Would love to see your finished cake.

This video by Ron Ben Israel helps with ideas on how to add color and shimmer.




Return to Your Decorating Questions.
How do you make the paper decorating cone you use to make leaves?
by Cheryl
(Georgia)
I was curious as to how you make the paper decorating cone you use to make leaves.

I liked the idea of making my own cone. Please tell me how to make the one using paper, the one you use to make leaves, dots, stems, etc.

Thank you.



Hi The Video here is one that I made for my You Tube channel and shows you how to make a paper decorating cone. If you want to make leaves you can simply snip the tip into a point or use a leaf tip if you prefer.

Thanks for visiting Wedding Cakes For You. I hope this helps.


Return to Your Decorating Questions.
Piping Bag Question
by Dilara
(Germany)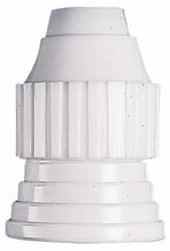 Couplers
Many thanks for your answers to my questions, you have helped me very much so far.
I have one more question for you. I have to decorate many different forms, but my problem is the bags I buy at the store do not fit all form. For example to make a rose, how can I make a matching bag for my cups. I've looked at a few videos and I noticed that some cake decorators use plastic bags but they burst for me. What kind of bags do I need for this???

Thanks Dilara

Hi Dilara, I have found the best way to use a variety of tips is to use a coupler with your bags. and then buying the same brand of tips that fit the couplers. This way you can switch back and forth without making a huge mess.

Try Candyland Crafts, you can link to them from here.
Return to Your Decorating Questions.
What cake icing tips do you use?
by Heather
(Vancouver, WA)
Lorelie,
I watched your video on YouTube of you making a carrot cake in fast motion. What cake icing tip did you use to frost the edges of the cake? Also did you use your best buttercream frosting?

I love the video and have watched it many times. You used a large leaf tip on the inner edges, but what did you use on the outside edges?

Hi Heather, First of all thank you! I'm glad you are finding my videos useful. I did use the large leaf icing tip for the outside borders and a star tip for shell borders around the edges.

I used my easy buttercream frosting for this wedding cake.






Return to Your Decorating Questions.
What are Those Aerosol Cans
by Allie
(N.Y)
When I watch TV shows about cake decorating I see people using some kind of an aerosol can (like wd40) to spray on the cake when putting fondant/gumpaste flowers on. What is that spray can?

Hi Alilie, I wish I knew. I imagine that it is moisture of some kind, because I use a dab of water to attach my gumpaste and fondant flowers. Sometimes I do use royal icing, so maybe it's some type of sugary substance. Hopefully someone will come along who does know the answer to your question.


Comments


Air
by: Anonymous

It is a can of air. You know the stuff you use to clean off your key board.. basically its cold air and chills down the sugar or chocolate till it sets.

Aerosol Cans
by: Yani

Hi Lorelie & Allie:

I have seen cake & chocolate TV competitions where the pastry chefs uses uses those aerosol cans. They use them to attach the chocolate flowers to the cake, to instantly cool chocolate centerpieces, molding chocolate, or other chocolate creations.

This is not a food product. It is not for human consumption. Well that's what I heard from the competitor on the Food Network. Thank you.
Click here to read or post comments
Return to Your Decorating Questions.
This article was printed from Wedding-Cakes-For-You.com