Custom Search

Cake Decorating Ideas
Are you looking for cake decorating ideas? Then you have come to the right place. Here you will find magnificent tiered creations, new concepts for creativity and professional cake decorating tips.
I am here to share with you the skills and knowledge that I have acquired in 25 plus years of baking and embellishing.
You can share your knowledge or talent for the delicious pastry arts on this website too. There are many invitations for you to contribute to (links below). Thank you so much for visiting :-)

"I can't believe all of the cakes that are on here now; a virtual 'plethora' of cake decorating ideas.....Great job Lorelie and Wedding Cakes For You!!"~Colleen Charles, SweetCakes & CheeseCakes~
---
The vintage "1976 Wilton Yearbook" was one of my first learning tools, full of ideas and inspiration. After a few classes and mentors I slowly developed a unique style of my own. If you are new to this craft, you will probably follow a similar path.
 
Throughout this website you will find tutorials on how to make your own delicious culinary masterpiece, learn to make royal icing snowflakes, fondant ribbons and so much more.

I hope you enjoy browsing and please let me know if you would like to see something that is not covered. This site is a work in progress and a labor of love.. Contact me anytime. I look forward to hearing from you.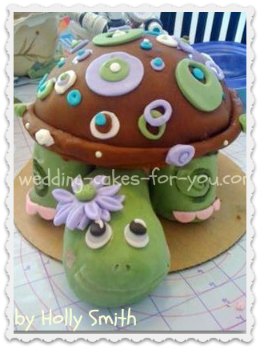 Share Your Cakes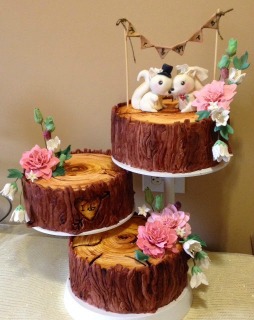 Share Your Wedding Cakes
Currently there are 26 pages of wedding cake design ideas on this website. Over time I will be adding more pages, photos and tutorials of my own designs. You can add yours too if you would like to share your experience with others.

If you have always wondered how the pastry chefs make those intricate roses with frosting, then check out the tutorial on making a buttercream rose.

Go and feast your eyes on the ever growing collection of pictures from people like yourself who visit this website. They are chock full of decorating tips, and inspiration. Contribute by adding your pictures and become a part of the #1 site to go to for FREE baking and sugar crafting advice.
---
Every wedding cake has a story. You will find many wonderful narratives and adventures by readers that visit this website. Some will bring you to tears, some will make you laugh. As bakers and decorators we can relate to the many joys and challenges of working in this field. Whether you do it for a hobby or as a business, you can share your photos and memoirs with the world here and find support from others.

---
From basic techniques to more challenging advanced sugar art. You will find simple buttercream piping instructions for basketweave design to the more advanced art of making fondant flowers.

---
Tips and advice from visitors to wedding cakes for you. So many readers add amazing ideas here. Check out this tips page which will be continually changing as I add more and more great advice from helpful people all around the world who are passionate about this craft.

---
Visit the videos page, where you will find a cornucopia of cake decorating ideas and examples with instructions.
You will learn how to make a butter cream rose, a fondant rose in full bloom, basket weaving and more...
Subscribe to Wedding Cakes For You-You Tube Channel.

---
Decorating wedding cakes is the ultimate expression for a pastry chef. Professional decorating always involves creative ideas.

Brides, you can print out photos and bring them to your personal bakers so check out this important page.

And if you are interested in making your own then go here for a complete guide.

---
If you have always wanted to try fondant go to the this page. Tutorials are available there and on other pages of this web site.

---
I have gumpaste flower tutorials for you and am always adding more. The Dogwood, Rose, Daisy and Gerbera Daisy, Orchid, Hydrangea and Fantasy flowers can be found here.

---
Share photos of your best creations, designs, or saga's about your experience with cakes. It's easy to submit a cake and a story.

Be a part of the help and be helped cake decorating community at Wedding Cakes For You, the most informative and best place to go for wedding cake decorating ideas!


---
Classes are available with Lorelie. If you live in the Connecticut area and would like to find out more contact me.

---
Check out the sweetest princess cakes for little girls. You can add your princess and barbie doll cakes if you have one to share.

---
Lots of great Christmas cake decorating ideas for you on this page including the famous Buche De Noel.

Thinking of starting a new career in the cake business? Go here first and see what others are saying. Go to Site Sell to learn about building an online business all about cakes or whatever your favorite passion is.