Decorating A Cake With Real Seashells
by Iva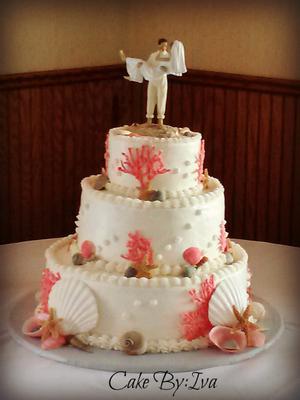 Sea Shell Wedding Cake By Iva
Hi Lorelie,


I have been asked to make a 3 tiered wedding cake. The bride and groom's reception is beach themed. They would like a basic white cake frosted with buttercream icing. They also would like a variety of real seashells and starfish used to decorate the tiers.
They have a large quantity of these that they have gathered while vacationing in Florida. They are colored white, tan, gray, and brown. The bride's color scheme is coral and gray.
The wedding topper is a groom standing in sand holding his bride in his arms. They definitely do not want shells made out of fondant, candy molds, or gum paste.
I was wondering if you have ever decorated a wedding cake using only real seashells? If not, do you think it is safe to do so? Any thoughts and ideas about decorating would be appreciated.
Iva
Lorelie's Response
Hi Iva
I uploaded a couple of pictures of a beach themed wedding cake. The scenario was similar in that the bride and groom had collected these special shells.
Funny I don't have the picture of the entire cake in one piece, and I don't have the middle tier photo either.
Just make sure to wash the shells well before using them. Is the cake pillared? It helps if it is because then you can place the shells on the plates in between.
Is the cake fondant? Fondant would be the best case scenario if you need to place them directly on the cake. If its buttercream try using crushed Graham crackers for sand and placing the shells on top? Not sure if that will go well with the design you have in mind. I just re read your question and see that the topper has the groom standing in sand so maybe this would fit in.
I hope that helps you out. I don't see any reason not to use the real ones as long as they are clean. if anything, I would be worried about the shells getting greased by the buttercream. Hope it goes well.
Please send a photo of it. I can add it to this post. Use the submission form to do that or email through the website contact page.
There are a few designs on this site using seashells, but they are all made with chocolate and gumpaste. Here are some examples. Have fun!
Florida cake
Another design idea
Beach themed with sand