Hello Kitty Cake Design Ideas

Is there anything cuter than a Hello Kitty cake? I'm sharing a cake design and a topper tutorial with you that is two times better. Why? Because  there are two cuties on top having a tea party!
See How to Make It


In the video you will see how to make this adorable cake with the gumpaste cake topper. The buttercream ruffles and the cake elements added to the cake are in fast motion. Enjoy!
Here are some photos of the cake design to spark your creativity. I made the textured sides using a #352 Wilton leaf tip and my favorite Italian meringue buttercream. The cake is chocolate buttermilk. The filling is buttercream with Strawberry puree, then topped with fresh Strawberries. Use your favorite recipe combinations.
All the links to the recipes are at the bottom of this page.

Pretty Photos of the Hello Kitty Cake
You can visit my Amazon Shop to see all of the tools that I use to make my cakes with. 

Recent Addition - Hello Kitty made with Candy Clay to the bottom of this page.

Soft and Pretty


If you love the look of soft pretty ruffles on a cake, then you will adore this. I made two Hello Kitties but you can do this with one.. Make buttercream flowers instead of the gumpaste if you prefer.
Lettering with cupcakes to display the name of the birthday girl is optional. For a 5 year old it's extra special to have your name displayed like this. Evynn took notice of these and proudly arranged them in order on the cake table.
Cake Details


I made lots of little gumpaste flowers with various flower cutters. The lettering is made using Tappits and gumpaste. You can see the tappits tutorial here.
Cake Embellishment
 
Plan ahead and make all your gumpaste pieces first, they will need at least 12-24 hours to dry before moving them onto the cake. (The letters and little flowers dry very quickly)  

Inspiration
Our grandaughter Evynn is a HUGE fan. She turned FIVE and guess what cake she ordered?  If you've followed me for a while you know that my forte is not usually gumpaste figures. But I had soooo much fun making these.
It is an easy figurine to create comparative to some of the "sculptures" that we have all seen. I fear I may have the "bug" now. I can't wait to make more gumpaste figurines. Stay tuned LOL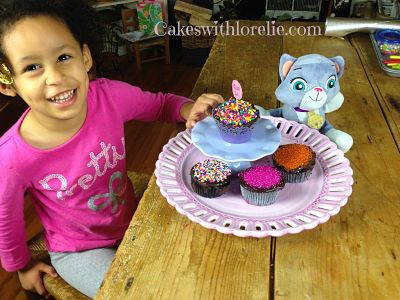 Evynn
The Recipes I Used 
Candy Clay Hello Kitty Cake Design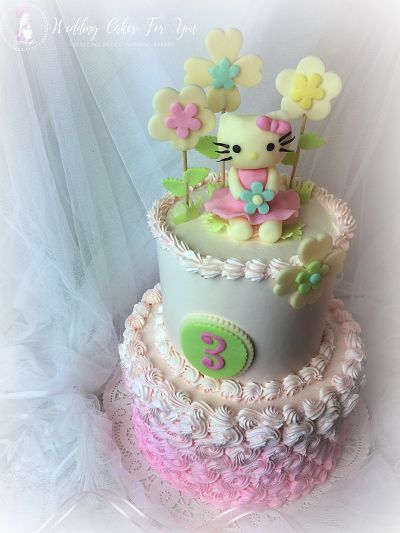 Hello Kitty made with Modeling Chocolate
White chocolate modeling paste is the new medium that I love to work with.

Working with candy clay as it is also known as, is  dreamy. I prefer it over fondant or gumpaste.
In the video below you can  link up at the end to the recipe tutorial on how to make this delicious clay.
You can color it and make just about anything that can be made with fondant or gumpaste.

Use the search bar above on the right navigation bar to search for more Hello Kitty cake ideas from visitors to this website.
This article was printed from Wedding-Cakes-For-You.com