Mocha Icing

 Easy mocha icing recipe is a basic butter cream frosting with the addition of cocoa and strong coffee or espresso.

This yummy recipe makes 3 cups, to fill and frost a 2 layer 8 or 9 inch cake.
How to Make Mocha Icing 
The Recipe

Ingredients
1/2 cup unsalted butter at room temperature

6 cups confectioner's sugar

1/3 cup unsweetened cocoa

7 Tablespoons of strong coffee or 1 Tablespoon instant espresso powder dissolved in 7 Tablespoons boiling water

2 teaspoons vanilla extract
Method
In the large bowl of an electric mixer, beat the butter until very soft and creamy. With the mixer on very low speed, beat in about 2 cups of the sugar. Stop the mixer and scrape down the bowl and beaters. Add remaining sugar and cocoa alternately with the coffee beating until very smooth and creamy. Beat in the vanilla.
This mocha icing goes perfectly with the best buttermilk chocolate cake recipe on this website. It  makes a very unique flavored wedding or  an all occasion cake.
Tip: If you bake a lot save your excess coffee. You can refrigerate or freeze it until ready to use for your next batch of chocolate cakes or mocha icing.

This recipe also goes well with the yellow cake recipe or the white cake recipes on this site.
More Combinations

Experiment with a variety of flavor combination's. Banana cake goes well  with coffee and cocoa flavored frosting. Orange butter cake makes for a unique blend of flavors too. Get creative and have fun with your baking and cake decorating. xo Thanks for visiting my website. 
Build Your Skills and Confidence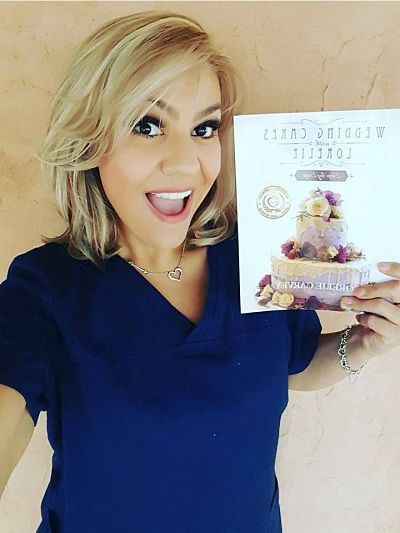 Click on the picture of Roxie to see how Wedding Cakes with Lorelie Step-by-Step will help you build confidence to create beautiful cakes and cherished memories. 
Impress your friends, family and customers with the same tried and true recipes that I have used with great success since 1985. The book comes with perks...
A membership to our Cake Crew on Facebook 
A special page on this website just for you 
This article was printed from Wedding-Cakes-For-You.com