The best way to add dragees to a wedding cake?
by Tina
(Palmetto, Florida)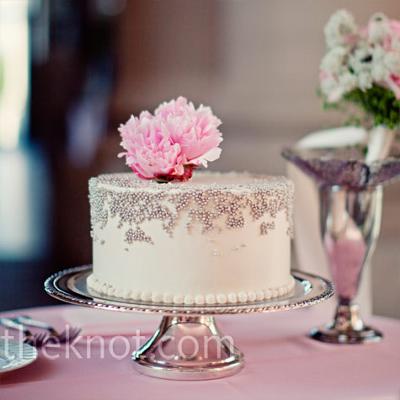 Photo From The Knot
I have three cake decorating questions:


1. I would like to know the best way to add dragees to a wedding cake. The bride to be has a photo of a simple wedding cake with ivory butter cream and tiny, tiny dragees strategically placed on the top and sides of cake in a very nice cascading style (not in random bunches). Is there any way (other than one by one) of adding these to the cake? I believe they are 3mm dragees.(I've included a photo.)
2. I would like to know of a good site to convert cake recipes for larger servings without compromising the original recipe. I know recipes can be somewhat delicate when it comes to ingredients and balance and I've been afraid to mess with the ingredients to create larger servings. All my recipes currently are for two standard 8 inch or 9 inch pans. I would like to know the best option for creating many different sizes of cakes with these same recipes.
3. I would like to know where to purchase or how to create the lace that is on the photo that I have attached to this email. I'm just getting started in this business and I have my first wedding to do. These are the two samples that she has given me of cakes she would prefer. I'm a quick study but am having difficulty finding instructions for creating this lace or even finding places to just purchase this lace.
Thanks for your help!
Tina
ANSWER:
Hi Tina,
Although the dragees look like they are strategically placed onto the cake one by one, they are most likely not. I have used two methods for this.


Literally throwing a handful of dragees at the cake as you turn it on a turntable and letting them fall where they will or...



Placing a small amount of the dragees in your hand and pressing them onto the cake gently as you tilt the cake slightly so that

you can have some control over where they end up. This is probably how this cake was done. It is similar to putting crumbs on the sides of a cake.


If you want to create this effect but add even more interest and dimension to it various sizes of the dragees which you can find at this link.

For your second question about converting cakes from small to large. I have all of the basic wedding cake recipes already converted for you. I have not had an issue with multiplying any of these recipes. They are generally for a wedding cake to feed 150 guests. Here are the top three...






The Most Incredible Carrot Cake


Your cake recipes if they are similar to mine should produce a fine cake when multiplied.

For your third question about the lace patterns. This is most likely done using sugar veil flexible icing. If you follow this link you can see and read more about Sugar Veil and order the icing mix, the mats and instructional's from Candyland Crafts, the company I refer my cake decorators to.

I hope that answers all of your cake decorating questions. If you have more as you get your business going feel free to ask. Good luck. Can you please let me know who to credit for these photographs and please send a picture of your finished cake and how you managed with your wedding cake.

Thank you very much for visiting! Happy Baking and Cake Decorating.


Some of the links on this page are affiliates. This means that I will receive a small commission if you purchase a product through them. There are no extra charges for doing so. This helps me keep the information on this website free of charge. Because my name is attached and your satisfaction is very important to me, I only recommend products I have purchased or would purchase myself and which I believe you would benefit from.