Tiered Wedding Cakes with Fondant
by Cory
(Houston, TX)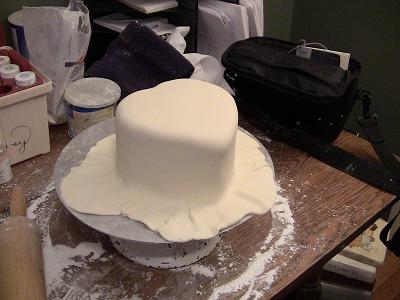 Satin Ice Fondant

Hi Lorelie....EXCELLENT website :-)



Couple questions: One on tiered wedding cakes with fondant and one about the Cake Stacker's system that you recommend.

1. Just made your

white cake recipe

("Easy Recipe for a Wedding Cake") and it is deliciously moist and fluffy! With it being so fluffy though, can it hold up under the weight of 3 to 4 tiers with fillings AND fondant for a wedding cake?

2. Whenever I stack my cakes with the fillings including the buttercream dam, I DO refrigerate them and crumb coat them first (don't have a freezer big enough) However, when I go to put the fondant on and it sets, the line where the filling is in the cake never fails to bulge into the fondant just the tiniest bit ruining the smooth fondant finish.

Am I not getting the buttercream set hard enough maybe or do you have any other suggestions? I usually have it refrigerated overnight before applying the fondant...

3. Do you use your homemade Candyland Crafts? Which one is easier to handle?

4.

Cake Stackers....

they look awesome but how do you be sure to trim the top of the tier exactly to cover the metal dowels?

THANKS and I'm sure I'll be asking more questions! :-)

Cory

Hi Cory, Great questions! I'm happy that you liked the white cake recipe. I use it often for

wedding cakes. It holds up fine. The trick is to make sure that the support within each tier is enough so that the cakes above do not press down on the cake below. Also having the cakes very cold to hold them together as you are working with them is important

To solve the filling line from showing, make sure that you not only crumb coat but you also give your cake a final coat. Do the finished coat the same thickness as you would if you were not using fondant. Another method that I have seen but don't use is to put a layer of marzipan under the fondant.

I used to make my fondant from scratch and I sometimes use the marshmallow fondant for small cakes. I now use Satin Ice from Candyland is by far my favorite and it is so easy to work with. Plus it comes in all colors and tastes good.

The Cake Stackers metal dowels are adjustable. So you measure your cake height and then adjust the dowels with spacers. It is super easy. I HATE dealing with wooden dowels and over the years I used plain old plastic straws as support. With the Cake Stackers your tiered wedding cake is much more durable and perfectly level.

Thanks Cory for some great questions about tiered wedding cakes with fondant. I hope this helps.