First Wedding Cake
by Patti
(Brea, CA, USA)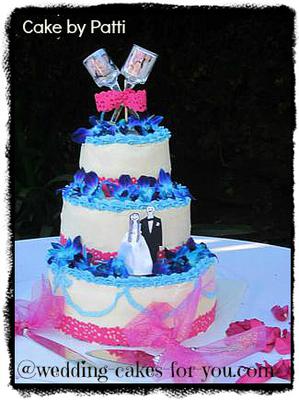 First wedding cake
First Wedding Cake
Just three weeks before her wedding, my niece asked me to make her cake! It had been many years (15-20?) since I had done any decorating, but I was up for the challenge.
Researching Cake Decorating Ideas
Working one full-time job and one part-time job, I really had no time for practicing, I had to just research and go for it.
Wedding-cakes-for-you
was awesome in finding advice and ideas for how I was going to bake a three tier cake and get it to a location 70 miles away, fresh, tasty, and looking beautiful. So many tips and methods that I had no idea about were discovered here.
The Wedding Cake Process
I started the process about 5 days before the wedding, baking one layer per evening and freezing it, wrapped well with plastic and foil as suggested. When that was done, I
crumb coated the layers
(I had never known about this step before) and added the filling, re-wrapped, and back in the freezer.
Three Different Buttercream Recipes
Fortunately the venue had a kitchen where I could do my work. I made the
meringue buttercream icing
(gathered different recipes and used one with less butter) and made the regular buttercream for the color and decorating the day before and put those in the refrigerator.
At the venue, I was able to beat the meringue buttercream to soften (took a bit and at first I thought it would not reconstitute as it looked to be a mess - just keep beating). I added the dowels as instructed here, decorated the layers, and the bride was extremely happy with the outcome.
The Best Wedding Cake Recipes
It was so VERY tasty (recipes from this site -
carrot
-
cream cheese filling
,

chocolate buttermilk
-
chocolate mousse filling
, and
white wedding cake recipe
-
raspberry mousse filling
) and was devoured with people coming back for seconds.
It may not be the most professional in appearance, but everyone was very happy with it, so I was happy with it! The small bride and groom were made by the brides children.